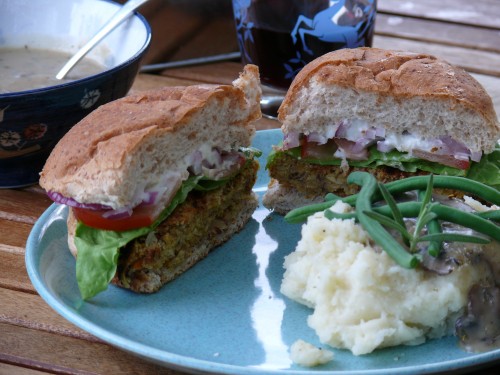 As you have recently learned (you have been following along, right?) from making black bean burgers: The secret to vegan grilling is pre-baking or pre-steaming.
Whilst unearthing this fantastic culinary nugget, it occurred to me, strangely, for the first time: hey, I could make a grrrrrillable chick patty. Why this never occurred to me before, I can't tell you. It's too sad.
But occur it did. Like a Mack truck.
After reading various gas grill reviews on one of my trusted sites and getting the two-burner grill at home, I first grilled one of these and saw the perfect charred-in lines. I might have actually giggled. But deeply. Like Barry White thinking of something funny, he saw on TV. Behold: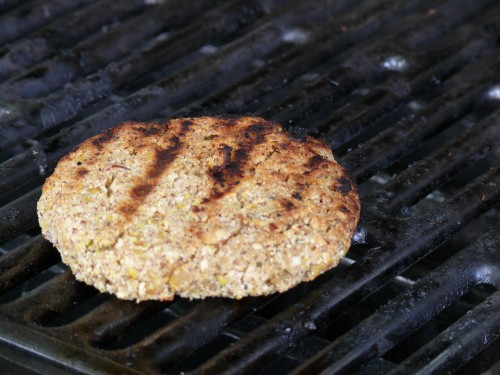 Grillable Chick Patties
2 cups (1 can) cooked chick peas
1/4 grated/microplaned/finely diced carrots
2 sprigs fresh / 1 tsp dried oregano
1 tsp salt
1/4 cup ground oats
1 tbsp ground flax seed, mixed with 1/4 cup water
1/2 tsp ground cumin
1 dash cayenne pepper
ground black pepper, to taste
1 batch chik'n almond bake
Preheat oven to 375. Place a pan of water on a low rack. This will keep things moist.
Prepare the flax seed and water–this needs to sit for about 10 minutes, until it becomes sort of gelatinous. This is the equivalent of 1 egg and can be used as a binder in lots of other recipes.
Rinse and drain the chick peas thoroughly. It's important that you think of them as "chick peas" and not "garbanzo beans," as that would ruin the play on "chick." In general, "garbanzo" people are not to be trusted.
Add in the carrots. Mash. Mash it up.
Add in the ground oats and spices and mix/mash thoroughly.
Oil a baking sheet. Form the mix into patties–this will make 3 decent-sized burgers or 4 smallish guys. I recommend going with 3. Actually, I recommend making a double, triple, or quadruple batch–since it doesn't really take much more work and these can be refrigerated or frozen. Pop the patties on the cookie sheet and bake 10 minutes to a side.
They can be grilled immediately or refrigerated or frozen.
Serve on a lightly toasted (right on the grill) bun with lettuce, tomato, onion and either Earth Balance (tm) or Vegenaise (tm).
We had this with smashed potatoes and mushroom gravy.