Conquistadors enjoyed this rice for its simplicity and savoriness!
[caption id="attachment_987" align="aligncenter" width="500" caption="This particular version has pinto and kidney beans for protein power!"]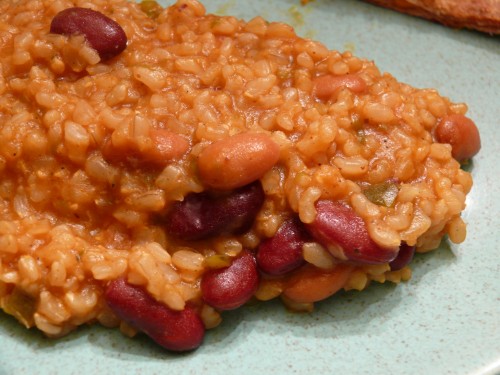 [/caption]
Spanish Rice
2 cups brown rice
4 cups veggie stock
1 medium onion, diced
1 green bell pepper, seeded and chopped
1/2 red bell pepper, seed and chopped
cooking oil
2 tbsp tomato paste
1 tbsp chili powder
1/2 tsp cumin
2 tsp oregano
1 dash cayenne
In a large pot, sautee the onion and peppers over a medium heat, until tender. Stir in the herbs and spices. Stir in the rice, cooking for about 5 minutes. Add in the veggie stock and tomato paste. Bring to a boil, then cover and reduce heat, simmering until rice is tender and stock has all boiled off--about 45 minutes.
Serve after genocide and/or before seeking out el dorado.