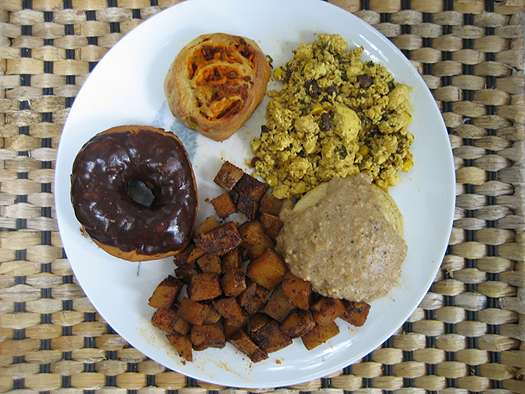 As a follow-up to the Shadow Art Fair, we hosted a vegan brunch this morning along with our excellent friends Ryan and Val.
Hatched as a drunken idea a week ago, I was really hoping that someone else was going to make me breakfast this morning instead. But alas! I didn't have to do any work on the Shadow Art Fair, so all things considered, making some food for people is the least we could do. And Ryan got up at 5am to make VEGAN DOUGHNUTS!
Here's the menu:
Vegan Savory Swirls (aka Ryan's Rolls)
Fresh blueberries, cherries, and pineapple
Spicy fried potatoes
And to drink:
Agave-sweetened iced sun tea
OJ (with and without pulp--with pulp won by a landslide)
Coffee with soy creamer
Fizzy water
All in all, this wasn't that difficult or expensive (except for the doughnuts, maybe...which take a lot of work). We bought the tofu and tempeh in bulk--so the scramble probably cost about $10, tops, and the gravy for the biscuits was probably $15, tops.  And this, along with the other stuff fed about 25 people.
Everyone seemed pretty willing to bring stuff too, so this could easily have been a potluck. It's worth noting that only about half the people were vegan and everyone seemed happy and well-fed. So there. You no longer have any excuse not to have a vegan brunch. Delicious!
A slew of pictures:
[gallery]