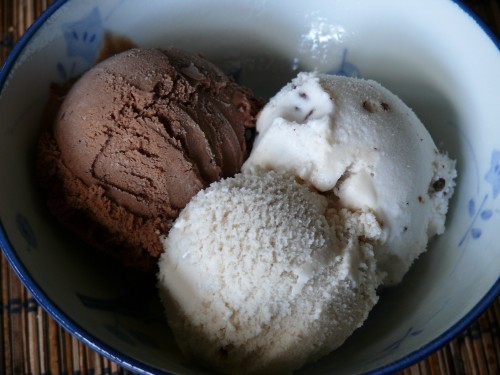 So, almost in time to be too late for the summer, I present: ice cream! We got an ice cream maker for our wedding, mainly because we'd run out of things we really wanted to register for and didn't, under any circumstances, want to be given something we couldn't return later. But when the time came, we kept it. This, it turns out, was an awesome decision. Making homemade ice cream is actually pretty easy if you have an electric ice cream maker. It's a little harder with a hand crank, but still workable. I'm pretty sure you burn off way more energy than you'd use as electricity, so the carbon footprint is about the same either way--chipmunk-sized.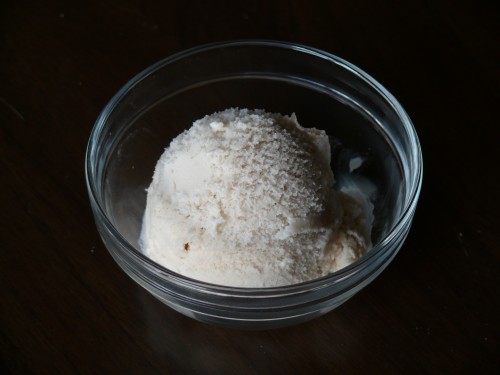 Straight Up Vanilla
2 cups coconut milk
2 cups soy creamer (Silk(tm) or Rich's(tm))
1/4 cup agave nectar
1/2 tsp salt
1/2 tsp pepper
4 tsp vanilla extract
2 tbsp bourbon (optional)
---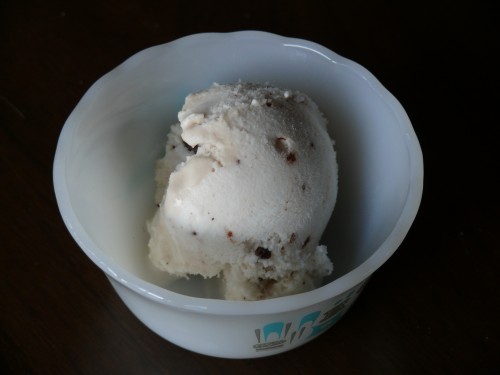 Mint Chocolate Chip

2 cups coconut milk
2 cups soy creamer (Silk(tm) or Rich's(tm))
1/2 cup agave nectar
1/2 tsp salt
1/2 tsp pepper
2 tsp peppermint extract
2 tbsp vodka (optional)
1/2 cup chocolate chips
---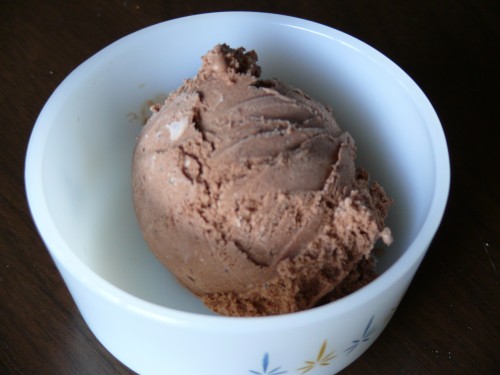 Chocolate Peanut Butter Ripple
4 cups coconut milk
3/4 cup chocolate chips
1/4 cup unsweetened cocoa
1 tsp vanilla extract
1/3 cup agave nectar
1/2 tsp salt
1/2 tsp pepper
1/3 cup natural peanut butter (I like chunky)
1 tbsp Earth Balance
2 tbsp agave nectar (this is for something else, not to be confused with the above agave nectar. get with it.)
2 tbsp bourbon (optional)
1 tbsp ground coffee (optional)
The processes for the Vanilla and Mint Chocolate Chip are (almost) the same: in a large mixing bowl combine all of the ingredients (except the chocolate chips), then follow the directions for your ice cream maker. Generally, this will be: take bucket out of freezer; plug in ice cream maker; put bucket in maker; turn on maker; pour in mixture. Huzzah!
For the mint ice cream, you may want to break up the chocolate chips, either in a food processor, with a knife (if you've got a year of your life to kill), or just smacking with the round side of your ice scream scooper. If you leave the chips whole, they get awfully hard. It's up to you. How good is your dentist? Add the chocolate pieces just before the ice cream is solid.
For the Chocolate Peanut Butter Ripple, you're gonna have to get your hands dirty.
In a saucepan, melt the chocolate chips in 2 cups of coconut milk over medium heat. Combine the other 2 cups of coconut milk, cocoa, 1/3 cup agave (use more to taste, especially if you're using unsweetened chocolate chips), salt, pepper, vanilla, and bourbon (if using) in a large mixing bowl. Once the chocolate chips have fully melted in the the coconut milk, add that to the mixing bowl. Once mixed, pour soon-to-be ice cream into your ice cream maker and fire it up. Now, in the same saucepan from before (unless you like doing lots of dishes) melt the peanut butter in with the butter and remaining agave. Once mixed, remove from heat and let cool. Fold in the peanut butter at the very end of the ice cream making--you don't want it to mix, but rather form little rivers of delicious peanut butter.
For all of the recipes, the alcohol is optional, but will help keep the ice cream from freezing completely, so it's less icy and more creamy. Your brain would implode from sugar shock long before you could eat enough ice cream to catch a buzz.