<< Back Squashed & Mashed Bake 'Em Up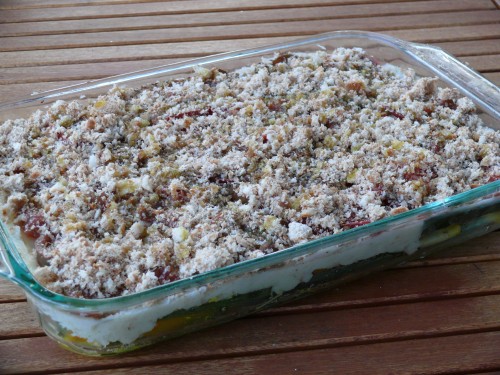 This recipe used to involve eggplant.
Eggplant does not GROW LIKE CRAZY.
Zucchini and summer squash GROW LIKE CRAZY.
__________________________________
This recipe involves zucchini and summer squash.
And tomatoes (it always involved tomatoes, which GROW LIKE CRAZY).
And potatoes (not the marble-sized guys from our garden...but they needed to get used up...you don't want to make Ralph Nader cry do you?)
Squashed & Mashed Bake 'Em Up
6 medium russet potatoes, peeled and cut into large pieces
3 medium tomatoes
1 large zucchini
1 large summer squash
olive oil
3 tbsp buttery substance
1/8 - 1/4 cup milky substance
1/2 cup bread crumbs
1/4 cup nu yeast
2 tsp herbs d'provence
1 tsp oregano
1 tsp garlic
half a palmful of rosemary
salt and pepper to taste
This recipe is pretty simple. You start of by making smashed potatoes:
In a large-ish pot, boil the potatoes until they're soft. In a large-ish bowl, add the milk and butter, garlic, rosemary, and some salt and pepper. Mash it! Mash it up. You want these pretty thick and fluffy, so don't overdo it on the milk. I'm serious.
At some point in this process, you should preheat the oven to 400 degrees.
Now. Cut the ends of the zucchini and squash. Cut the zucchini into 4 pieces, width-wise. Cut each of these length-wise, so you have wide, thin pieces. Cut the neck off the squash and do the same thing. Cut the big part in half. With a spoon or small skull, dig the seedy guts, if there are any, out of the squash. Now cut each half into thin slices, length-wise. Excellent. You're almost done.
Spread a bit of olive oil on the bottom of a 14 x 9 baking pan. Spread a layer of squash--enough to cover the bottom of the pan, but not too thick. Drizzle a bit more olive oil on top of the squash, then sprinkle salt, pepper, and half of the herbs d'provence on top. Now spread a layer of zucchini. Drizzle more olive oil and sprinkle on the nu yeast. Fantastic! You're doing great. One more layer of squash and/or zucchini, whatever is left (this will depend on the size of each). Top with salt, pepper, and remaining herbs d'provence.
Now. Spread the smashed potatoes on top of the squashes.
Cut the tomatoes into thin slices. Remove the tomato-boogers as you go. Spread these (tomatoes, not boogers--unless you normally eat the boogers and throw away the tomatoes) in a layer on top of the potatoes. Sprinkle oregano on top of this. You're so close, I can taste it. Sprinkle on some bread crumbs, drizzle on some more olive oil, cover with aluminum foil, and pop this beyotch in the oven. After 10 minutes, remove the foil. Bake for an additional 20 minutes. Poke the zucchini with a fork--if it feels tender, you're all done. If it's still a bit tough, your oven is a wuss and you need to keep baking for an additional 5 to 10 minutes.
Outstanding!