<< Back Summer Zucchini Soup (suitable for yeti)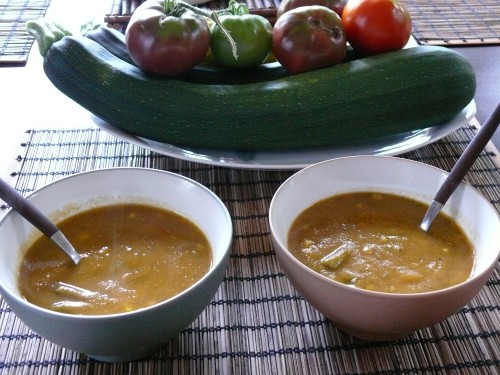 So. You decided to grow zucchini. Good choice.
But now what the hell are you gonna do with all that zucchini?
This problem will plague you all the way through fall, like a heard of vengeful yeti.
But fear not, dear readers! This is one of many zucchini recipes. You can search for more (trust me, you'll need more) by clicking on "zucchini" in the tag cloud or going to http://irreverentvegan.com/tag/zucchini/.
Like many of my zucchini recipes, this one was:
totally improvised based on what I had on hand (and is this seasonal)
will help you use up vast quantities of zucchini
involves any number of jokes about pornographs/pornstars/etc
This is a nice summer or fall soup, creamy but light, with that subtle zing of roasted garlic and fresh tomato. The beans, corn, and additional zucchini are all optional, but add something to chew on--essentially moving this from the appetizer soup to meal soup category. Yeti like to chew on things with their massive herbivorous teeth, and this prefer this soup with chewables. And when you've got a plague of yeti...best to make them happy.
Summer Zucchini Soup
Necessary
1 large (beyond your wildest porno dreams) or 2 medium zucchini, chopped
1 large tomato chopped
1 large carrot, peeled and chopped
2 stalks of celery, chopped
1 head of garlic
1 tbsp herbs d'provence
salt & pepper, to taste
Optional
1 ear (or 1/2 - 1 cup) corn
2 cups of green beans, chopped into bite-size pieces
1 cup of cooked (or from a can) white beans
1 additional small zucchini
First things first. Let's get our garlic on. Man. I really hate "get our X on" expressions. So let's not "get out garlic on". Let's roast it, like normal people. So. Preheat the oven to 400 degrees. If you have a Toast-R-Oven (tm), that's ideal. It's smaller, thus taking less time to heat up and using less energy. Let's help keep Ralph Nader's eyes dry. Chop just the tips of the garlic off, exposing the little holes. Put the head of garlic on a sheet of aluminum foil big enough to wrap around it. Now, pour just enough olive oil to fill all the holes and gaps in the garlic. Wrap er up and bake for 30 - 40 minutes, until the garlic is soft.
Meanwhile: sautee the onion in high heat cooking oil in a large pot over medium heat. Add in the celery, then the carrots. Once the soup-base triumvirate begins to soften, add in the (necessary) zucchini. Then, add in the tomato. None of this has to be chopped too fine, as you're just going to blend it later.
Add in the herbs d'provence and salt and pepper.
Once the zuchinni begins to soften, add in the veggie stock. Let this simmer for 10 - 15 minutes, until the garlic is done.  Once the garlic is done, add it to the mix by spooning out each clove with a knife. I guess that would be "knifing it out".
Now you're ready to blend! blend! blend! With your immersion blender or boring regular blender, blend the soup to an even creamy consistency.
If you're adding yeti-chewables, not would be the time. Leave the heat on medium, cover and let cook about 5 more minutes until reducing heat.
If not, you can reduce the heat to low right off. You'll want to eat this asap, i.e. before you're mangled by yeti. Yeti don't hang with appetizers.
Add water to get desired consistency. Yeti like it thick.