The first step to failure is making up the name for something that already has a name, probably. If I weren't too lazy, I'd know what the name for an Indian curry made from chick peas and zucchini is called. But instead, I just used the words for each: chana and toree. Hey, it works for Aloo Gobi, right?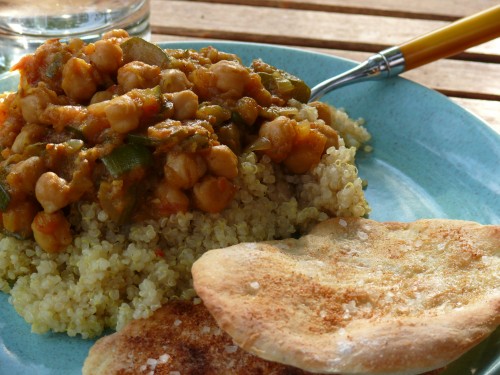 Actually, this wasn't a failure, per se, but it wasn't as savory as lots of other curries I've made. The zucchini made it kind of "watery" tasting. It did, however, make it a very attractive dish. So if you're in the mood for a really mellow curry, this could be just the guy for you. But I wasn't, so it wasn't. Thus, it was not a success.
Allow me to impart a nugget of wisdom wrested from the gaping maw of failure: It's okay to give some of your zucchini away. Now, I'm not admitting defeat; I'm not saying that a sufficiently crafty person couldn't make an average of 2.75 zucchini-based meals per week. But from a utilitarian perspective, you would maximize overall happiness by giving some of your zucchini away and focusing on making meals with zucchini that you really like, not just adding zucchini to every recipe you know, willy-nilly.
And anyway, it's not like we're talking about kale here. Adding zucchini to everything doesn't really confer any great health advantage.
But.
The pretty picture above has piqued your interest nonetheless. So here you go:
Chana Toree
1 large zucchini or 1/2 of a REALLY large zucchini, diced*
2 cups cooked chick peas, rinsed and drained
2 large tomatoes, diced finely
1 large onion, diced
2 large cloves of garlic, minced
1.5 tbsp curry powder
2 tsp ground cumin
1 tsp coriander
1 tsp chili powder
1 cup veggie stock
salt, to taste
In a large-ish pot over medium heat, sautee the onions and garlic in oil until they are soft and starting to brown. Toss in the zucchini, mixing well. Add in all of the spices, taking care to coat everything. Cook for about 5 minutes, then add in the tomatoes, chick peas, and veggie stock. Bring to a boil, reduce heat, and let simmer for about 2 hours. Serve over rice, couscous, or quinoa.
* Cut the zucchini into about 2" lengths. Cut those in half lengthwise, then cut the halves in half, then again. In other, simpler, words, cut the slices into eighths lengthwise. Now cut those slices widthwise into about 1/8 - 1/4" little triangles. While this does nothing for the actual taste of the dish, it does look attractive, which in turn may trick folks into thinking it's more delicious than it actually is. Presentation is often a subterfuge.
We made this with homemade naan, which was awesome.
Here is how it looks in a blue pot, which also lends to the transference of attractiveness to deliciousness:
[caption id="attachment_432" align="aligncenter" width="500" caption="Complementary colors are also a culinary subterfuge"]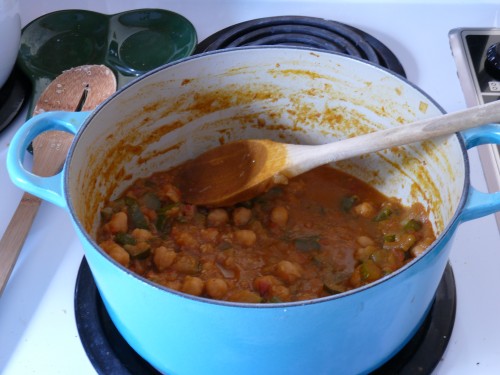 [/caption]