Remember that delicious, creamy, garden-fresh tomato soup that mom used to make?
Me neither. I remember tomato soup from a can. This is far better than any canned tomato soup I've ever eaten...though admittedly it's probably been a decade...maybe canned soup technology has undergone vast improvements. Still, it'd be hard to beat 'maters from the garden, fresh herbs, and coconut milk.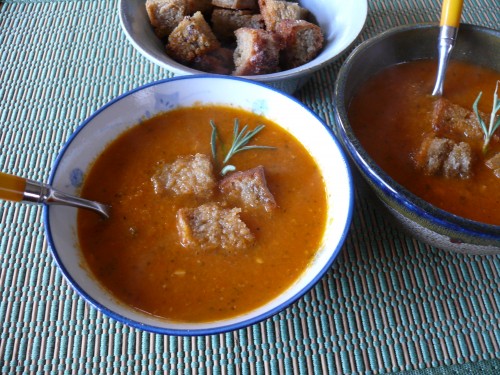 Especially this time of year, when you've got a surplus of tomatoes and it's starting to get cold out (well, in Southeast Michigan it is).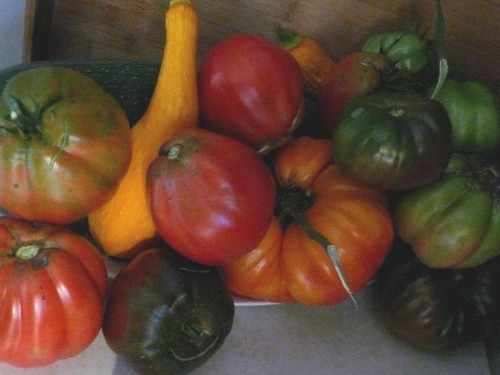 Fresh & Creamy Tomato Soup
6 medium - large tomatoes, quartered
2 large onions (white, red, or both), quartered
4 large cloves of garlic
2 bay leaves
2 tsp dried / 2 tbsp fresh diced rosemary
2 tsp dried / 2 tbsp fresh diced oregano
1/4 cup fresh chopped basil
1/2 tsp ground cumin
1 tbsp brown sugar
4 oz tomato paste (half a small can/jar)
8 cups veggie stock
1 can coconut milk
salt and pepper, to taste
green onions, to garnish
The secret to a superlative tomato soup is roasting (is roasting the same thing as baking? am I just baking this? roasting sounds way more intense). So, if you'd like your tomato soup to be superlative, then preheat your oven to 375 degrees Fahrenheit. But that's not all. There's more. Arrange the onions, tomatoes, bay leaves, and garlic in a 13 x 9 casserole dish/baking pan/something with depth (you'll be pouring broth in this later). Drizzle olive oil on the top, then sprinkle on rosemary.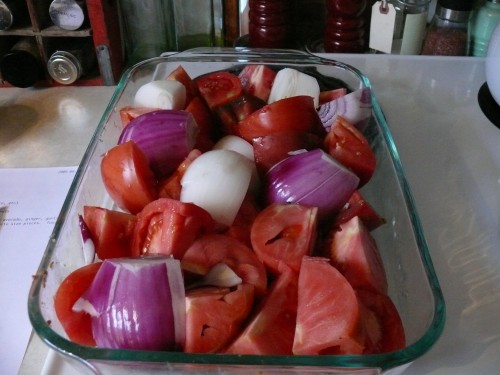 Roast for 30 minutes. Now hold on--it's not superlative yet. You're getting there. To help you achieve your goal, pour half of the veggie stock into the dish/pan/something. Roast for an additional 10 minutes. Remove from oven and pluck out the bay leaves, unless you like chewing on crunchy, more or less inedible leaves.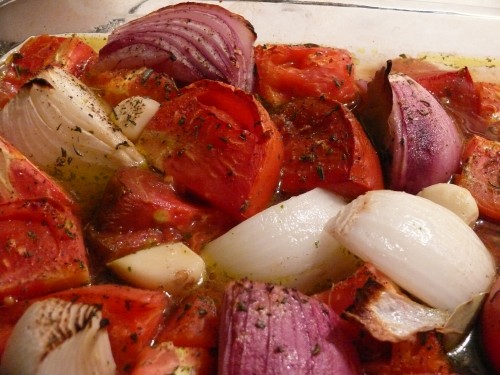 If you have sucked it up and purchased an immersion blender--I know, I know...but seriously, they're awesome--then you can transfer the roasted veggies right to a large pot. Otherwise, transfer to blender. You'll probably need to do this in a few batches. Blend until smooth. If you haven't already, transfer to a large pot which, ideally, is sitting on a burner which, ideally, has just been turned to medium heat.
Add in the remaining ingredients, except the green onions and stir/blend to superlativity. You may need additional salt and/or pepper to achieve maximum superlativity.
Simmer for at least a half hour, partially covered, on low heat. Garnish with green onions and homemade croutons.