Hulk love salad. Hulk green. Salad green.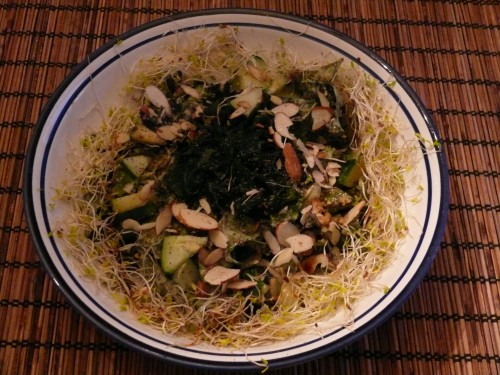 This salad was kinda fun. Yes. I just said a salad was fun. This is a cooking blog and I am vegan...so...this can't be that big of a shock. Instead of lettuce, it uses raw kale marinated in a creamy Asian avocado dressing. For additional power and/or flavor, it features wakame (a seaweed) and sprouts.
Salad Fixins
4 - 6 cups chopped kale (ideally lacinato/dinosaur)
1/4 cup dried wakame
1/2 cup (alfalfa/bean/broccoli) sprouts
1/4 cup almond slivers
1/4 cucumber, cut in to small wedges
Dressing
1/2 avocado
1 clove garlic, pressed or grated
1/2 - 1 tsp ginger, grated
1 tbsp sesame oil
1/2 tbsp peanut oil
1 tsp soy sauce/gluten-free tamari/shoyu/Braggs
1/4 cup water
juice from 1/2 of a small lime (~1 tbsp)
You can start this one out with the dressing--just combine all of the dressing ingredients in a blender and blend until smooth. Simple!
Now on the the salad part. I'd been wanting to revisit the kale salad idea since Breaded Tofu and Mushrooms on Steamed Kale. Strangely, VeganYumYum posted a kale salad recipe at almost the exact same time (even cutting the kale the same way!). Hers used raw, rather than steamed, kale, though. The trick is to put the dressing on in advance and let the kale marinade for a bit, softening it up. Genius! I love steamed kale, but you usually want a cool, crisp salad, and steaming makes it warm. Warm makes hulk angry.
So.
Cut the kale into thin strips (if using lacinato/dinosaur kale) or in to thicker strips and pieces of using "normal" kale. Now you just toss the kale in the dressing and refrigerate for at least 30 minutes.
Meanwhile, prepare the wakame by soaking it in water for 5 minutes. Use a lot of water. These bastages expand a lot. Strain. You may even want to squeeze them out a little bit. Cut them into thin strips (in piles...unless you have like 6 thousand years to spare).
Once the kale is done marinating, toss into serving bowls/plates/bowl-plates. Pile wakame in the center of each bowl. Place sprouts around the edges and sprinkle on the cucumbers and almond slivers. For added deliciosity, douse lightly with soy sauce and fresh ground black pepper.
Become calm once again. Revert to human form.