Because I derive such great joy from the bastardization of both the Indian language and cuisine--I present another in my series of madeup Indian dishes: Aloo Dal Makhani. It's an attempt at a "standard" Dal (lentil) Makhani, but with Aloo (potatoes). It's very rich and a little sweet.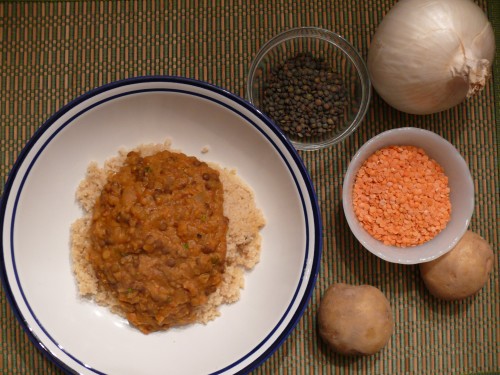 I'm not sure what possessed me to base this on Vegan Dad's Tofu Makhani recipe instead of something more authentic. Well, nix that. I am sure. I saw the picture on his site and almost gave myself a concussion from salivating too hard. I didn't use tofu, because I don't really like tofu in curries, and I wanted something a little more traditional. Like Vegan Dad, Indian food was my first love as a vegan, the first food that shocked me out of my usual Western palette.
This recipe did mark the first time I've used soy yogurt and cashew cream (my version, not Vegan Dad's) in an Indian dish--and let me tell you, 'twas a revelation. This dish also doesn't have any cumin! This is perhaps one of the hardest things I've ever had to do. I'd probably put cumin in beer. Or an open wound.
Aloo Dal Makhani
1 cup red lentils
1/2 cup black lentils
4 small-medium potatoes, peeled and cubed
2 medium-sized onions, diced
2 medium-sized tomatoes, diced finely
1 clove of garlic, minced or pressed
2/3 cup (or 1 single-serving) soy yogurt
1/3 cup Earth Balance (tm)
1/2 cup ground almonds*
2 tsp chili powder
1/2 tsp turmeric
1/4 tsp ground cloves
2 tsp garam masala
1 tsp ground cardamom
1.5 tsp ground ginger
1/2 tsp cinnamon
2 bay leaves
1/4 cup chopped cilantro
1/2 cup cashew cream (you can substitute soy creamer or coconut milk, but it's not as intensely awesome)
4 .5 cups of water
salt, to taste
* we get almond meal at our local coop--it's cheaper than buying whole almonds and less work
Melt the Earth Balance (tm) in a large pot over medium heat. Toss in the onions and cook until they start to get soft. Add in the garlic, salt, all of the spices, the almonds, the yogurt, and finally 1/2 cup water. Stir it up! Mix in the tomatoes. Then add the lentils and potatoes, stirring well. Add in the remaining water, and bring to a boil. Once it's boiling, cover it and cook over low-medium heat for about 30 minutes.
Once the potatoes and lentils are soft, add in half of the cilantro and the cashew cream. Simmer uncovered on low for another 10 - 15 minutes. Add in the remaining cilantro and serve over rice or couscous (we used couscous, cooked in veggie stock).
For some extra green action, we had this with savory green beans--which, strangely, complemented this perfectly.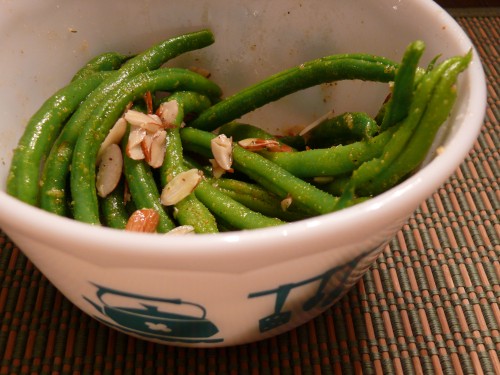 Savory Green Beans
green beans
onion powder
garlic powder
Spike (tm)
almond slivers
rosemary olive oil (or regular, and a dash of ground rosemary)
Steam the green beans until they're done the way you like them. Who am I to tell you how you like your beans? Toss in rosemary olive oil and add in the spices and almond slivers.