<< Back Baked Apple Cider Doughnuts
Let's just start this with a picture: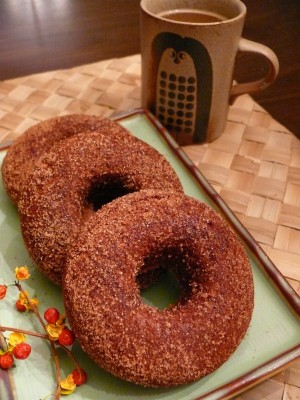 Every year when fall blows in and we buy that first jug of cider, a desire for apple cider doughnuts begins worming its insidious way through our brains. This is fueled largely by nostalgia for visits to the apple orchard as kids. Knowing this does not help quell the desire. What does help is making freaking apple cider doughnuts!
And since we rarely bake sweets, I thought it was only right to finish off Vegan MoFo by making something I wouldn't normally make, challenging myself a little.
As you've quite possibly learned by now, we're not into frying so Amy hunted down this baked apple cider doughnut recipe. I took great pains to veganize it by, well, leaving out the egg. That simple. They were still light and fluffy, so I'm not really sure what the egg was supposed to do in the first place. Maybe in the olden days people had more eggs than they knew what to do with? Like me and zucchini.
It's been a long time since I had a proper apple cider doughnut, and these weren't fried, so I can't compare very well. Amy thought they were delicious, but not a perfect replica of the platonic form of 'apple cider doughnut'.
I should mention in advance, that you'll need a doughnut pan for thus. You can get them pretty cheap in the intarwebs--be sure to get a nonstick one.
In any case, here they be: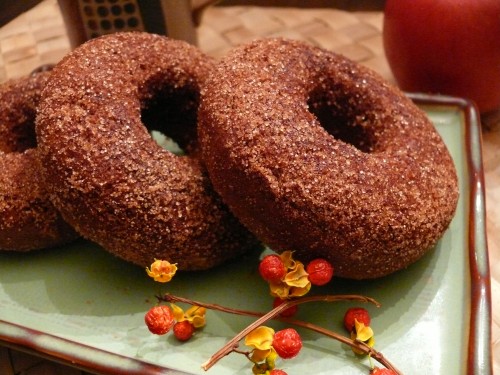 Baked Apple Cider Doughnuts
2 cups all-purpose flour
1½ tsp baking powder
1½ tsp baking soda
½ tsp salt
2 tsp ground cinnamon
½ tsp ground nutmeg
2/3 cup packed brown sugar
½ cup apple sauce
1/3 cup pure maple syrup
1/3 cup apple cider
1/3 cup plain yogurt
3 tbsp vegetable oil
Preheat your oven to 375 degrees Fahrenheit. Combine all of the dry ingredients, except the brown sugar, in a large mixing bowl. Combine all of the wet ingredients plus the brown sugar in another, mixing thoroughly. Pour the wet mix into the dry and mix until just moistened.  Lightly oil or spray the doughnut pan and pour enough batter in each pocket to fill about half way. I filled them my first time using the pan and the doughnuts were all huge and lopsided. Caution, dear readers, caution. Bake for 15 minutes, or until they spring to the touch. Let them cool for a few minutes, then remove them from the pan using a knife to pop them out. In a small bowl, mix about 2 tsp cinnamon to 1/4 cup sugar (until it tastes sweet and not too sharp). Spray/brush the doughnuts with oil lightly and dunk the doughnut in the dry mix, coating thoroughly. BooYa!
Eat with hot cider. Or else: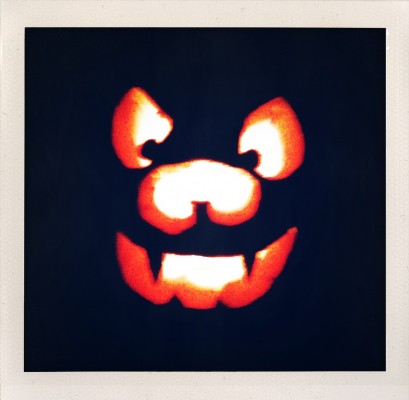 Happy Halloween!
Happy Final MoFo!