<< Back Breaded Seitan Steaks w/Potatoes & Brussel Sprouts
It seems like a lot of us MoFos are on the same page; winter's setting in and it's time for soups and taters. We made Chik'n Breaded Seitan Steaks, boiled potatoes (fresh from our garden!), and steamed and lightly sauteed brussel sprouts. 'twas a downhome meal that Jennifer would have been proud of.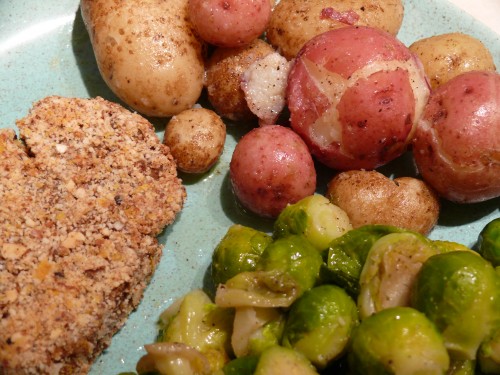 We've already posted the Seitan Steaks, so I'll just leave you with a few notes on the potatoes and brussel sprouts.
Boiling potatoes is awesome/easy. Larger potatoes take longer to cook, as do brown potatoes. So. Bring water to boiling and pop in the largest brown potatoes. Add the largest red potatoes shortly thereafter. The largest brown potatoes pictured above required about 15 minutes. The smallest, probably only 6 or 7.
Brussel sprouts are slightly less easy--but totally worth it. Cut off the hard base, like you would a mushroom. Remove any loose leaves. Anything an inch or larger, we usually cut in half--but it's your call. You're going to sautee these, so the more surface area, the more buttery deliciousness. Steam these for 5 -8 minutes (depends on how much you're making), until they're brighter green and easily pierced with a fork (but not mushy!). When they're done, sautee them in ~2tbsp Earth Balance(tm) in a frying pan over medium heat. Add salt, pepper, and garlic to taste. Don't overcook--you're just adding a little flavor.