What better way to kick off Vegan MoFo III than with the quintessential fall soup: Chick Pea Noodle. I don't know what you heard from those Campbell's jerks, but the chick pea--not the chicken--in noodled soup form, is the quintessence of fall. Chick peas bleed fall.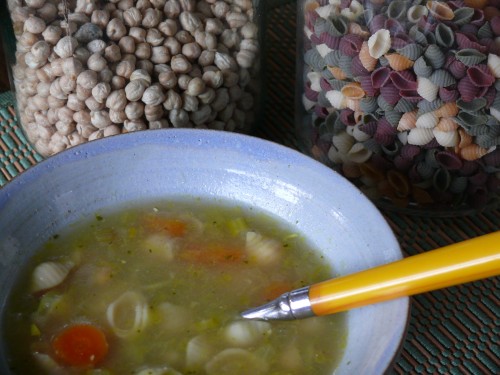 Chick Pea Noodle Soup
10 cups of veggie/unchicken broth
3 cups (1.5 cans) cooked chick peas
2 carrots, peeled and cut into semi-circles
2 stalks of celery, cut into smallish pieces
1 medium-sized onion, diced
3 cloves of garlic, minced
1 tbsp ground almonds
1/2 tsp cumin
1.5 tsp ground mustard seed
2 cups dried shells (or equivalent amount of whichever noodle you like best and/or have on hand)
salt and pepper, to taste
In a large pot over medium heat, sautee the onions, celery, carrots, and garlic. Once they're soft, add in the stock, then the spices and almonds, then the chick peas. Once the soup comes to a boil, reduce heat, cover, and simmer for at least 15 minutes.
Meanwhile, prepare your noodles. When they're done, rinse them under cold water, then add them to the soup. This is better than just tossing the noodles in the soup dry, as that will make them bloated and soggy, like a fetid corpse washed upon a shore. Disgusting.
The soup. conversely, is delicious.