<< Back Chik'n Fingers, Roasted Cauliflower, and Fancy Smashed Potatoes
Wait. Fake chickens have fake fingers?
Amy was skeptical at first, but after she tried one, she had to admit they were pretty awesome. It was her genius idea, though, to gussy up what could have been a fairly plain meal with roasted cauliflower and smashed potatoes with a fancy roasted-garlic, wine, and carmelized-onion reduction.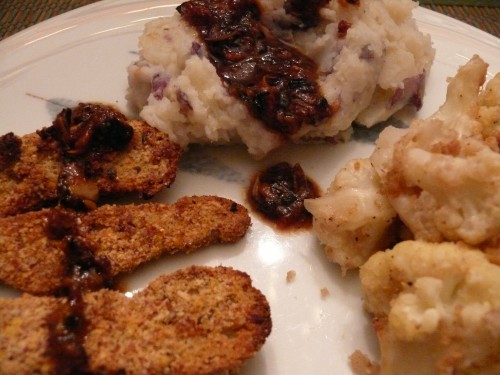 We made the Chik'n Fingers from the seitan we made the other night from Jennifer's version of Joanna's recipe, cut into thin strips (about an inch wide), battered in Chik'n Almond Bake, and baked 15 minutes to a side at 425 degrees. Super simple and kind of a nice change of pace.
These would also work nicely on that amazing looking club sammich over at Lisa's Thoughts, for those of you looking to avoid processed faux meats (just cook them at 10 minutes to a side instead).
We nabbed the roasted cauliflower recipe from our ol' stalwart companion, VegWeb.
The smashed potatoes were the usual deal (well, almost...we used unpeeled purple potatoes). The reduction is as follows:
Fancy Garlic-Onion-Wine Reduction
1/2 large purple onion, diced
1 HEAD of garlic, roasted
~ 1/2 cup white wine (or sub red, for a something a bit heavier/richer)

3 tbsp (aka 1/4 cup) Earth Balance
In a carmelizing-able pan (nonstick pans usually won't carmelize), begin carmelizing the onion in the Earth Balance over medium heat. After about 5 minutes, once the onions havae begun to soften, add in half the wine. When the onions have carmelized, remove the cloves of roasted garlic with a butter knife and add to the onions. With the mashing implement of your choice, mash the onions and garlic together thoroughly. Add in the remaining wine (or more, for desired consistency) and cook for another few minutes.
Serve as just a light drizzle; this is not a gravy! (some things, you have to learn the hard way...)