<< Back Chloe's Fall Salad and Amy's "Everything Goes" Salad
Hi ya'll.  Amy here filling in for Mark with my first post on IV.  He spent the entire evening helping me stretch the canvas for a ten-foot painting, so he deserves a break.  It's salad time...just in time for your fall crop of lettuce.  Sadly ours got eaten by hoggish vermin.  We'll take better precautions next year.
Mark and I each take different approaches to preparing a salad.  I tend to put ANYTHING in the fridge on some lettuce and voila!  Mark has a more regimented approach.  We can agree that any good salad has some sort of protein such as nuts, seeds, or beans.  We both also really enjoy a good homemade dressing.  So here we have, for your consideration, two salads- the first is a collaborative effort and the second is one of my weird (but delicious!) creations.
Salad 1: We had this one the other night.  Let's call it Chloe's Fall Salad.  I'm giving cred to our friend Chloe for the dressing recipe.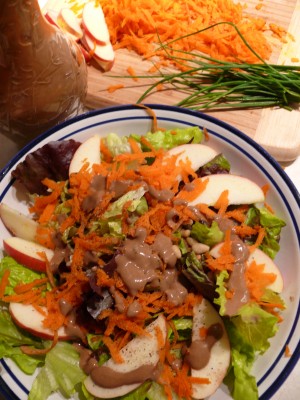 So of course you can put anything you like on this salad.  The apples are what make it a "Fall" salad.  Copycat these moves if you want to replicate the tastiness in the photo.
Salad:
mixed red leaf  and green leaf lettuce washed and torn into shreds
shredded carrots (we use a cheese grater for this)
toasted pine nuts (pop raw pine nuts into a pan on medium heat, stirring constantly until aromatic)
thinly cut apple slices
pepper to taste
Chloe's Dressing:
2 tbsp tahini
1 tsp pomegranate molasses (you can get this at Whole Foods or Middle Eastern grocers)
2 tbsp balsamic vinegar
1/4 cup olive oil
fresh chives, finely chopped
water to desired viscosity
Mix all ingredients in a blender.  Measurements are approximate.  I just kind-of keep dumping ingredients in until it tastes right, so feel free to doctor to suit your preferences.  Stores for weeks in the fridge (if it lasts that long!)
Salad 2: Amy's "Everything Goes" Salad (furreal people)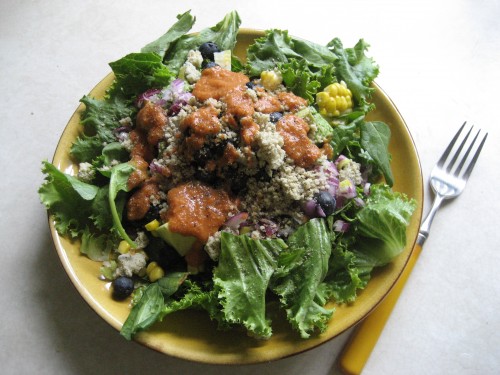 This particular salad contains:
green leaf lettuce, washed and torn into shreds
chopped red onion
cooked corn from the cob (we save ours in the fridge so it's cold when put on the salad)
blueberries
hemp seed (which may be purchased at Discount Pharms website)
pepper to taste
Dressing (my take on a Japanese sesame ginger dressing):
4 tbsp rice wine vinegar
6 tbsp vegetable or olive oil
2 tbsp sesame oil
2 tbsp soy sauce (or gluten-free tamari)
2 tsp sake
4 tbsp freshly grated ginger (or from a jar)
3 tsp vegan sugar
10-12 baby carrots (or 2 medium-large carrots)
5 tsp tomato sauce
1/4 cup chopped onion
Combine all ingredients in a blender starting with liquids and gradually adding solid ingredients and blend until smooth-ish.  Add water if necessary to thin.  Again, measurements are approximate.  We like this dressing to be rather sweet, so feel free to cut the sugar down some.  You can also substitute agave nectar or another sweetener of your choice.  This one saves for weeks too.
Let us hear your favorite salad mix-em-ups and dressings.  The more unexpected, the better!