The thing everyone hates about lasagna is boiling the noodles and then trying to work with them. If you don't hate this, feel free to move on to a different recipe, one that is more work and involves a panoply of pointless masochistic tasks.
Conversely, there are a variety of ways to make this recipe much harder to make--but with the added benefit of making it even more intensely awesome. It's a culinary Choose Your Own Adventure (tm). Any number of choices will result in your death. Only a few will lead to victory.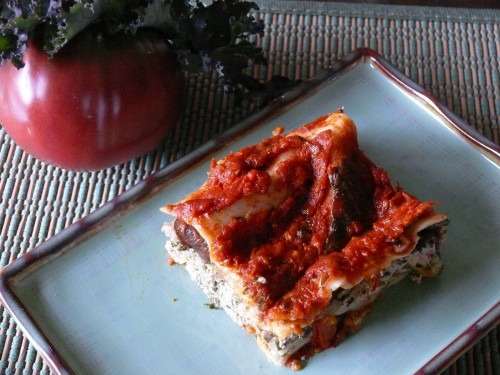 No-Boil Choose Your Own Lasagna
The Essentials

4 - 6 cups of pasta sauce (about a jar and a half or 8 tomatoes-worth)
12 large lasagna noodles
faux-ricotta
Faux Ricotta
2 cups spinach OR lightly steamed kale
1 lb/package extra firm tofu
2 tbsp nu yeast
1.5 tsp oregano (2 large sprigs fresh)
1/2 tsp garlic powder OR 2 - 4 cloves fresh garlic, pressed
1 tsp basil (1 tbsp, fresh & diced)
1/2 tsp rosemary (chopped if fresh, crushed if dry)
1/8 tsp cayenne
salt, to taste
Sauce (optional)
~ 8 medium - large tomatoes, diced
1 HEAD of garlic, minced
2 tbsp olive oil
1/4 cup fresh basil, chopped
1/8 cup fresh oregano, diced
salt & pepper, to taste
Mushrooms (optional)

1/2 lb mushrooms, cut into thin slices
1/2 medium-sized white or yellow onion, diced
olive oil
1 zucchini, sliced into thin disks (optional)
Filling
Blend the tofu and spinach/kale in a food processor, until well-mixed and somewhat smooth. Add in the remaining filling ingredients and blend until smooth, salting to taste. You can use this filling in any Italian-ish recipe that calls for ricotta.
Sauce (optional)

If' you're going the store-bought-sauce-in-a-jar route, this recipe is insanely simple. Skip to Lasagna
Note: You'll want to do this step first, if you're going the homemade sauce route--it needs to simmer.
Sautee the garlic in olive oil in a large pan (or pot) over medium heat. When it begins to brown, toss in the tomatoes and stir well. At your convenience and/or leisure, add in the oregano, basil, salt, and pepper. Let this simmer on medium heat, uncovered, for at least 30 minutes, until it's more of a sauce than a liquid. Use your judgment. Modern physics offers no conceptual framework for understanding the phase transition from liquid to sauce.
Mushrooms (optional)
Sautee the onions and mushrooms in olive oil  in a medium-sized pan over medium heat until the mushrooms are tender. That's it.
Preheat oven to 375. In a 9 x 12 pan, spread enough sauce to thoroughly cover the bottom of the pan. Add in a layer of 4 noodles (I usually end up with 3 full, and a fourth broken into large pieces to fill the remaining space). Spread a layer of half the filling on top of the noodles. If you're using it, spread a layer of zucchini over the filling. Cover with another layer of noodles. Now spread the rest of the filling on top of them. Spread another layer if zucchini, if using. Spread the mushrooms in top of that, if using. Now put one more layer of noodles down. Cover thoroughly with sauce.
Cover the pan with foil and bake for 30 minutes. Remove the foil and bake for another 30 minutes. Let it cool for about 15 minutes before cutting and/or serving. Use your will power. I know you can do it. Top with more sauce and vegan parmesan, if handy.
Serves: Bill Murray as Garfield.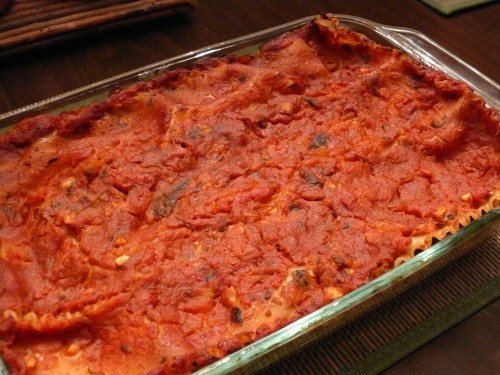 [gallery link="file"]