<< Back Red Thai Curry w/Tofu and Sesame Kale
Until the last 6 months or so, I'd never had much luck with Thai food. Recently, though, I've begun to penetrate into the lurid mind of Thai food.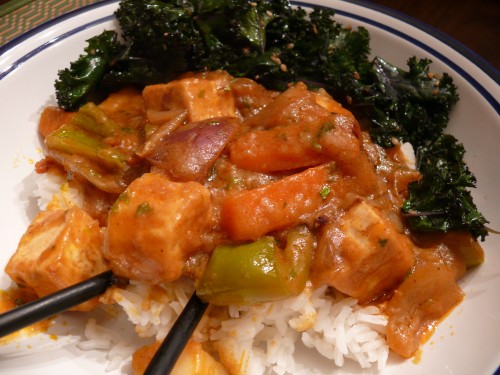 Red Thai Curry w/Tofu
1/2 lb tofu, cubed
1 medium-sized white onion, petaled
1 green or red bell pepper, cut into large pieces
2 medium-sized carrots, peeled cut into 1" pieces and quartered
2 small red or purple potatoes, cubed
2 cups (1 can) coconut milk
1 tbsp red thai curry paste (we used store-bought this time, but making your own isn't too difficult)
1 tsp chili powder
2 tbsp brown sugar
1/2 tsp ground cumin
1/2 tsp ground coriander
1 - 2 tsp lemon grass powder (to taste--this will depend on your curry paste)
2 tbsp fresh cilantro, diced
~ 1/8 cup cornstarch
safflower oil
peanut oil
salt, to taste
Start by sauteeing the onion and potatoes in safflower (or other high heat) oil over medium heat in a frying pan. Start heating some peanut oil in another frying pan, also over medium heat. Meanwhile, peel and cut the carrots and toss them in with the onions. Similarly, chop the pepper and toss that in.
Press the tofu and cut it into 1/2 - 1" cubes, whichever is your preference. Toss lightly in corn starch and fry it up in the peanut oil. We generally keep it shallow and flip it, but if you like your entire house/apt/flat to smell like peanut oil for days, you can fry it in 3 feet of oil. Your call.
When the tofu is nice and firm, drain the oil (we keep a jar of oil for frying--you can reuse this a few times) and add in the vegetables. Pour in the coconut milk. Mix in the curry paste and all of the remaining ingredients, except the cilantro--put that in a few minutes before serving. Simmer for 5 - 10 minutes.
Serve over rice.
Usually, we love broccoli in Thai food, but something about a red curry dislikes broccoli. To make this meal a little healthier, we had it with steamed kale, lightly sauteed (you can just toss it, if you prefer) in sesame oil and soy sauce and sprinkled with sesame seeds or gomashio.
It's like a Yoga Noogie for your taste buds!