<< Back Small Portions: Seitan Bread Bake, Roasted Acorn Squash Soup, and Scalloped Potatoes
For me, cooking is largely a creative endeavor, like making art--something steeped in inspiration and which doesn't like being bossed around. For the first few weeks, the MoFo was just a great way to push myself a little harder, a context for creation. But in the last few days, it's become harder--for better or worse. Maybe now is the most important time--when it's no longer easy and I have to start making real decisions, instead of being blown by the winds of whimsy.
It was in this state that I approached last night's meal: Seitan Bread Bake, Roasted Acorn Squash Soup, and Scalloped Potatoes. With the additional caveat: I must not produce any more leftovers that Amy won't eat (it gets a little old eating pot pie for lunch every day for a week). So, I wanted to craft a meal that catered to all of Amy's cravings.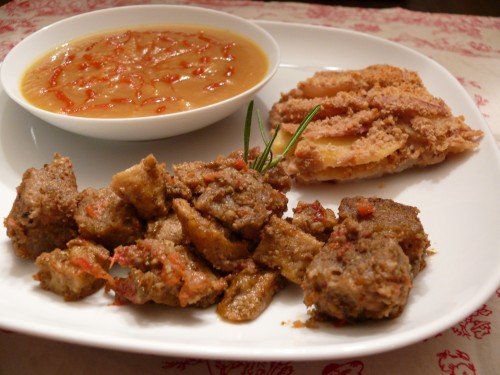 (I'm feeling a bit loquacious today--feel free to skip to THE ACTION)
Mulling over how to put all of this together without creating a hodgepodge of crap, I took inspiration from this really attractive meal at The Airy Way. It reminded me of two things that I often really like in a meal: lots of different, small portions and a nice mix of complex recipes with simple ones.
We usually approach a soup as a meal, but every once in a while I get a wild hare to do an appetizer-type soup. We had a few acorn squash to use up, so this seemed like a perfect opportunity for Roasted Acorn (and Garlic!) Soup. Riding out the Autumn trend (which happened to be saddled to the Amy's-Craving trend), it seemed like a good night to take another stab at Faux Gratin Potatoes. We've been a little nooched out of late, so we decided that a simpler, cleaner Scalloped Potato might be a nice change.
The surprise champeen of the dinner, to my surprise, was the Seitan Bread Bake. We had tomatoes and bread to use up and Amy mentioned this sort of tomato and bread bake that a friend's dad used to make. My interest was piqued. Of course, we also nad seitan to use up (there's a theme here). The original recipe used basil, but we have a mess of pesto in the freezer right now--this, I firmly believe, was the crucial element. I don't have words for how awesome this stuff tastes. You could prepare it faster than I could describe it.
In any case, here's THE ACTION:

Roasted Acorn Squash (and Garlic!) Soup
2 small acorn squash, cut in half and degutted
1 HEAD of garlic
1/2 medium-sized yellow onion, diced
3 cups veggie stock
1/2 tsp ground cumin
salt and pepper, to taste
Preheat your oven to 425 degrees Fahrenheit. Slice the acorn squash in half, remove the guts, then place on an oiled cooking sheet. Slice off the top of the head of garlic, place in foil, and douse with olive oil. Bake the squash for 45 minutes and the garlic for 30 minutes (i.e. just put garlic in 15 minutes after the squash).
Meanwhile, sautee the onion in oil or Earth Balance in a medium-sized pot over medium heat, untill soft. When the squash and garlic are done, remove them from the oven and give them at least 10 minutes to cool. Spoon and knife the squash and garlic, respectively, into the pot with the onion. Add in the stock, stir well, then blend with an immersion blender. If you're using a standard blender, you can put all the ingredients directly in the blender, then transfer to the pot. Blend until very smooth. Add the cumin, then salt and pepper to taste.
Serve with a swirl of Rooster Sauce.
4 medium - large potatoes, cut into thin disks (peel, if using brown taters)
1/2 medium-sized white onion, diced
2 cloves of garlic, minced or pressed
1/2 cup cooked white beans, drained
1/2 cup ground cashews
1/2 cup milk-like product
tsp ground mustard seed
2 tbsp lemon juice
2 tbsp Earth Balance
salt and pepper, to taste
bread crumbs (optional)
This is very much like the Al-Faux-Do sauce, but with white beans and a bit more lemon. It's a bit thicker and, despite the lemon, a tinch less sharp (and even less so after baking).
Preheat your oven to 425 degrees Fahrenheit. Prepare the potatoes. Sautee the onion and garlic in the Earth Balance over medium heat. Once they're soft, add them to the blender along with the other ingredients (except the potatoes) and blend until smooth.
Put the potatoes in an oven-safe casserole dish and pour the the sauce over them, mixing very thoroughly. The more shallow you stack the potatoes, the faster they'll and the more bread crumbs you can fit on top. Your call.
Cover with foil and bake for 30 minutes. Uncover and add bread crumbs (if you're using them). Bake for an additional 15 minutes. Check the potatoes with a fork--if they're nice and soft, you're done. Otherwise, cook for an additional 5 minutes and check again. Repeat as necessary.
2 thick pieces of bread, cut into large cubes (we used our homemade bread; use 3 pieces if using sandwich bread)
1 large seitan cutlet (or two smaller ones), cut into large cubes
3 small tomatoes (or 1 large tomato--use your judgment), cut into pieces
3 cubes frozen pesto (~1/2 cup) OR fresh garlic and basil, minced
olive oil
Preheat oven to 425. Place the bread, seitan, and tomatoes in an oiled oven-safe casserole dish or cooking sheet with a little depth (there will be a fair amount of oil and tomato juice--so you don't want a totally flat sheet). Mix them up, so everything is fairly evenly distributed. Douse generously with olive oil, then spread pesto on top (if you're thawing, you'll probably need a little olive oil to the pest when warming). Cover with foil and bake for 15 minutes. Remove foil, stir everything thoroughly, and bake for another 15 minutes, until bread and seitan are somewhat firm. Prepare your tastebuds. Fantastic!