This isn't the kind of meal I'd want to eat every day, but when I do get that occasional hankerin', I can't get it out of my head and I have to make it. This isn't terribly hard--if you have seitan and cashew cream on hand. Otherwise, it's a little labor-intensive, but still worth it--very rich and filling.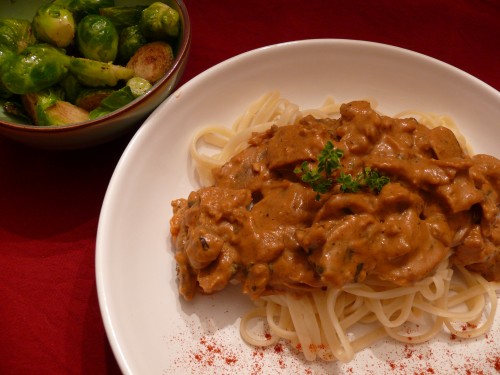 I adapted this incarnation (the perfect stroganoff is a work-in-progress) from this VegWeb recipe--"The Czar's Own Stroganoff". On the whole, the recipe seemed pretty good, but I'm positive the czar would be into pepper. And in a perfect world, he wouldn't want tomatoes in his stroganoff. Well, he would, but all he would have available is meat and cream, scorched earth, and a hardened soul. But no tomatoes. I subbed cashew cream for the tofu stuff--but go easy on the lemon.  I didn't, but would, reduce the amount of paprika. The cream already adds some sweetness, so too much paprika just pushes this over the top. Also, since this calls for a "beefy" kinda seitan, I recommend the PPK's version, not Jennifer's/Joanna's (which I used because I had it on hand--just marinade for a few hours in veggie stock and soy sauce). Finally, because I need to get this off my chest: I'm not into cubed seitan. I say that with some reservation, as I'm sure there's some recipe in which it would perform magnificently. But in general, cubed food seems kind of unnatural to me. I like strips or pieces, and getting different types of bites. Sometimes I even cut my tofu or tempeh irregularly, even though their natural shape is a block. I'm just sayin' is all.
Seitan Stroganoff
~ 3 cups chopped seitan (1 "ball" if you made the PPK recipe)
1 medium-large white onion, diced
4 cloves garlic, minced or pressed
2 - 3 cups fresh mushrooms, sliced thick
1 cup veggie stock (I like to use the stock from the seitan)
3/4 cup cashew cream (but go easy on the lemon! you can add more later)

1 tbsp tarragon
1 tsp paprika (add 1/4 tsp at a time and taste!)
salt and papper, to taste
unsweetened milk-like beverage (you may want to thin, esp. if you have leftovers)
a splash of soy sauce
noodles of your choice
As you'd expect, sautee the onion, garlic, and mushrooms in oil and a splash of soy sauce in a large skillet over medium heat. Once they've started to become tender, add in the seitan and cook until the seitan starts to brown (or get browner, as the case may be). Add in the stock, tarragon, lots of pepper, and cashew cream, stirring well. Salt to taste. Add in 1/4 tsp paprika and taste. If you want your stroganoff a little sweeter with a hint of spice, add another 1/4 tsp. This is truly a matter of personal preference. I don't like a lot of paprika in my stroganoff. Some people might. Depending on how easy you went with the lemon in the cashew cream, you may find you want to add a squeeze or two now. As with the paprika, do this little by little. You can't take it back. Reduce heat and let simmer while you're finishing/starting your noodles.
At some point, you will have wanted to start your noodles. If your sauce gets too thick, add in a but of unsweetened milk-like-product (we like almond milk for this).
As anticipated, serve stroganoff over noodles. Invite the czar. We had this with brussels sprouts, which the czar also loves.