Our neighbor sent us an omni version of this recipe (thanks Adrienne!) for a fall-time powerhouse of a soup. We veganized by subbing in soyrizo for chorizo and veggie stock for chicken stock. Just looking at the ingredients, I think Amy and I were expecting something more like a Zuppa Toscana--a brothy soup with potato chunks and a smidgen of kale. The resulting soup was...unexpected, but delicious--smooth and spicy, with a strange, subtle sweetness from the massive amount of kale. This soup would be a perfect balm for a winter cold or flu.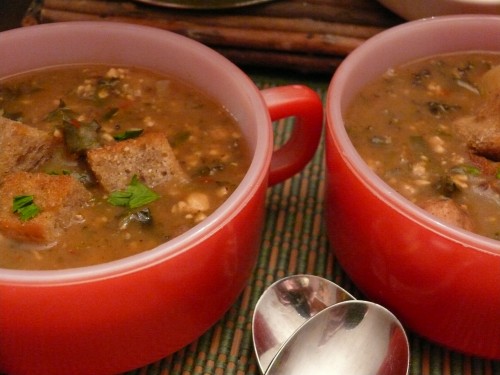 Spicy Potato & Kale Soup
1 large onion, diced
4 - 6 cloves of garlic
8 medium-sized potatoes, peeled and cubed
1/2 lb (~ one bag) of kale
1/2 lb soyrizo, (it's really easy to make your own)
1/4 cup chopped parsley
1/2 cup chopped cilantro (optional--this will cool the spiciness a bit and add a little tang)
9 cups veggie stock
1/2 tsp crushed red pepper
salt and pepper, to taste
In a large pot, sautee the onions and garlic over medium heat until they begin to brown/become translucent. Add in the veggie stock, crushed red pepper, and 5 or 6 of the potatoes (you're going to blend this later, so you want to save out as many potatoes as you'd like to chew with your teeth later), bring to a boil, then reduce heat and simmer, covered. Let the taters cook down for about 30 minutes, then blend--either by pouring everything in the blender in batches (boring) or using your handy-dandy immersion blender (less boring). Add in the soyrizo, raise heat to medium, and cook for another 15 minutes. Lower the heat again, add in the kale and remaining potatoes, and simmer for 10 - 15 minutes, until the kale and potatoes are soft, but not drained of all life. Add in the parsley, cilantro (if you're using it), and salt and pepper to taste.
Serve with crusty bread. I'm serious--the original recipe mandated that this must be eaten with crusty bread. I take these types of orders very seriously.
Just to be thorough, we served ours with crusty bread and croutons made out of crusty bread.