You like tortilla chips, right? Well do you like them so much that you savor the thought of eating every last crumb (i.e. half the bag)? If you answered yes, then no, respectively, you need tortilla soup! Seriously.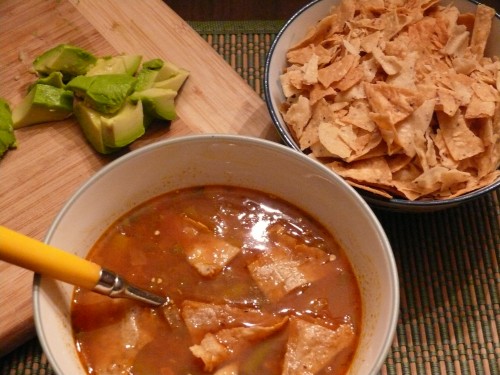 Tortilla Soup
1 large onion, diced
1⁄4 green bell pepper, diced
8 cups veggie stock
2 (4 oz) cans green chiles
1.5 cans tomato paste (6 oz)
2 cups corn
2 cups (1 can) black beans, rinsed and drained
1 tsp cumin

2 tsp chili powder
1/4 bunch cilantro, chopped
1 avocado (optional)
green beans, cut into 1 inch pieces (optional)
zucchini, cut into 1 inch quarter round slices (optional)
tortilla crumblins
In a large pot, sautee the onions and chiles on medium heat in oil, until not quite brown/translucent. Add in the remaining ingredients. Cook until the tomato paste (and veggie boullion, if you used it) is mixed well. Cover and reduce heat to low. Simmer for about 30 minutes. Garnish with tortilla crumblins and cubed avocado.