<< Back Tangy Black Bean Barley Soup & Black Bean Taco Salad
After making chili last weekend, we had some leftover black beans to use up--but my traditional black bean soup is much too close to a chili to seriously entertain as a post-chili-black-bean-use-em-up (tm). So I says to myself, "Self, let's shake things up! Let's make this more soupy...and tangy! Like a cilantro lime black bean rice, but a soup?!"
While it was pretty tasty, it was still too close to the chili we'd just had, and Amy wouldn't deign to eat it, so last night, I combined it with some refried beans, cooked the liquid down, and used it like rice & beans for !taco salad!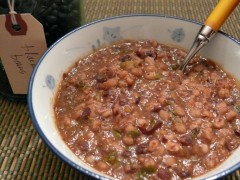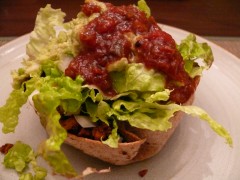 This taco salad was amazing.
This is probably because all taco salads are amazing, and this taco salad is a subset of all taco salads. Q.E.D.
But first, you have to make the soup:
Phase 1: Tangy Black Bean Barley Soup
1 large white onion, diced
2 small or 1 large stalk of celery, chopped
2 medium-sized carrots, peeled and cut into disks or half-disks
2 cloves of garlic, minced or pressed
4 cups (2 cans) cooked black beans (with liquid, if possible--always keep this when pressure cooking!)
1 tomato, diced (I used leftover tomato juice from canning)
6 cups (or more, to desired consistency) veggie stock
1/2 cup chopped cilantro
2 tsp toasted, ground cumin (or just ground, if you don't have seeds on hand)
2 tsp smoked chili powder
salt & pepper, to taste
In a large pot, begin the Traditional Ceremonial Soup Dance (i.e sautee the onions, carrots, celery, and garlic in oil over medium heat until soft). If using cumin seeds, toast them over medium high heat until fragrant, then grind into a powder using a mortar and pestle. Add the cumin, chili, and some salt and mix well. Add in the black beans, tomatoes (if using), and liquid(s). Continue Traditional Ceremonial Soup Dance by bringing to a boil and then lowering heat and simmering, covered, for 30 - 60 minutes. About 5 minutes before serving, add in the chopped cilantro, and complete the Traditional Ceremonial Soup Dance by salting and peppering to taste.
With Phase 1 complete, move in to Phase 2.
Phase2: Eat the soup.
Now let's move to Phase 3.
Phase3: Taco Salad
We've already made you privy to the taco salad particulars, so the only crucial piece of information is this: In a medium-sized saucepan, combine the remaining soup with 2 cups of refried beans (i'm assuming that 2 people each ate one bowl of soup--adjust accordingly) and cook down the liquid until everything's "all beany".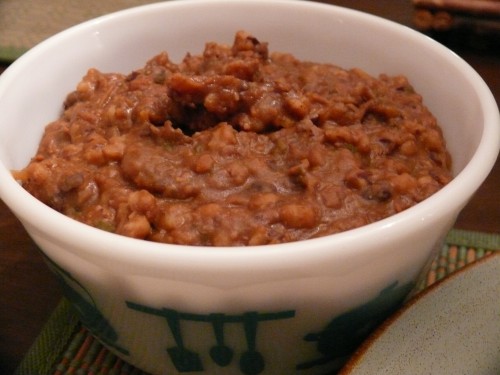 Use in place of normal refried beans in a delicious and nutritious taco salad!