Perusing Chow Vegan, we stumbled on this post about chili fries. This seemed like just the thing on an unseasonably warm fall day.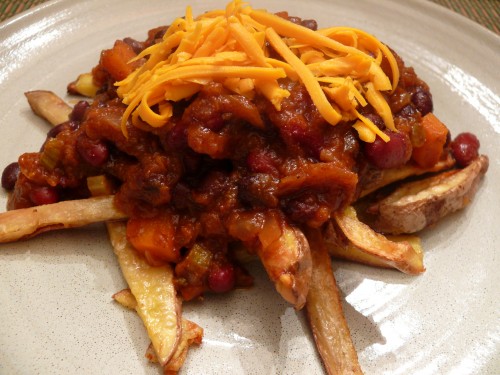 Unlike Chow Vegan, we love beans, so we pressure-cooked some up and made our own chili. We followed the recipe for Spicy Baked Potato Chips, but cut the taters into fry shapes and left out the cayenne, since the chili had enough kick on its own.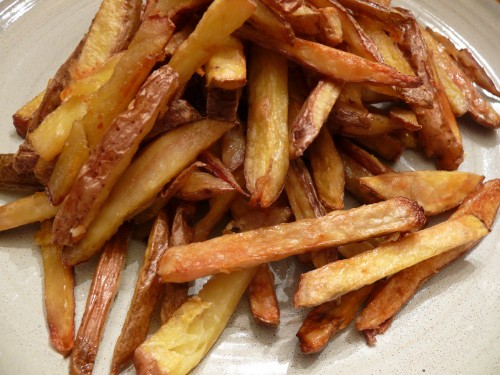 We topped it with Follow Your Heart cheddar which, while helping to scratch the cheese part of the chili cheese fry itch, wasn't ideal. Don't get me wrong--these were awesome--we just don't eat a lot of processed stuff and these types of cheeses always feel really processed to me. A homemade nacho cheese probably would have been a better choice, but we've been a little nooched out lately and most faux-cheese recipes are centered around the nooch.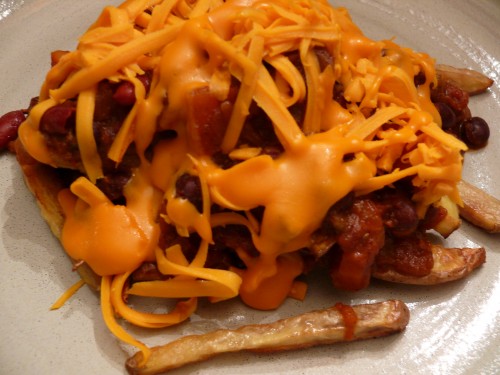 Cheese aside, the awesome thing about these is that, though they felt like a total indulgence, they're actually not bad for you. The fries (a bit of a misnomer here) are actually baked (using a high heat oil--safflower) and the chili was made from scratch with canned tomatoes, freshly cooked black beans, carrots and celery from our garden, and onions from a local farm. Once you get over the psychosomatic "I destroyed myself" feeling, you realize you actually feel pretty good after eating this. Huzzah!