So you've probably noticed by now--recipes/menus often come in waves here at IV. This is largely because we rarely deign to countenance leftovers twice, except as lunch. Instead, we try to rethink stuff we've already made and pair it with something else we've already made and/or with something fresh.
We made taco salad a few nights ago and had leftover refried beans and taco tempeh. For leftovers numero uno, we made quesadillas with the taco tempeh, Follow Your Heart (tm) cheddar, and diced jalapenos. We served it with the refried beans and sliced avocados.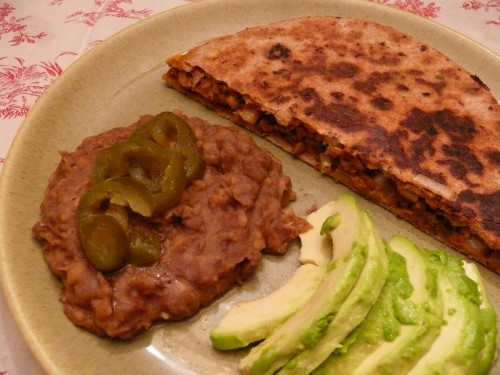 Okay. So the taco leftovers were successfully eliminated. But wait. Now we had leftover cheese. This stuff goes bad within a month, so you have to use it up once you've opened it.
So leftovers numero dos was quesadillas again, this time made with just tortilla and cheese. We served it in typical conflated culture fashion with Spanish rice w/beans and guacamole.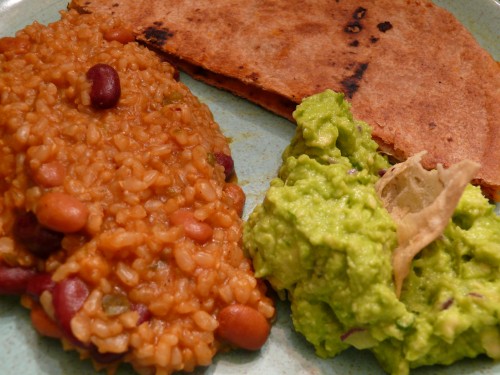 Making a quesadilla is simple: lighlty oil a frying pan, and place it on a burner at medium heat. Toss in a flour tortilla. Sprinkle on a generous layer of your favorite faux-cheese; top with taco tempeh, soyrizo, mexican-style chik'n strips; sprinkle in some onions and/or bell/jalapeno peppers; sprinkle on another layer of faux cheese; top with another tortilla. When the cheese is mostly melted, flip quesadilla and cook until browned and crispy.
Alternatively, you can make this with just faux cheese and two tortillas.
Cut in half to serve. Delicious!