I first made a version of this with my excellent pals Nick and Uncle Nathan for Friend Thanksgiving years and years ago. I don't know where Uncle Nathan found the recipe, but over the years it's become Amy's and my staple Spanksgiving centerpiece. What's great about this (aside from being delicious) is that it doesn't attempt to mock a turkey; this means that (a) if you're giving spanks with omnivores, they might enjoy this too (Amy's dad ate some at Spanksgiving and had some instead of turkey the next day for leftovers), and (b) you can start a new tradition that doesn't ape one you don't support.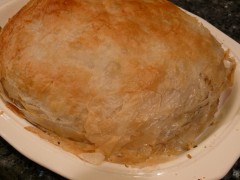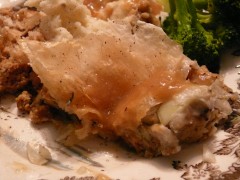 Spanksgiving Faux-Turkey
2/3 batch (2 packages if store-bought) of seitan
1/2 box of Fillo dough
buttery spread (I like Earth Balance Whipped Buttery Spread)
~6 - 8 pieces of bread
1 large (but not huge) white onion, diced
1 handful fresh sage, diced (or ~3 tbsp dried sage / 1 tbsp if dried and ground)
salt
pepper
1 cup veggie stock (I like to use the seitan broth)
Preheat oven to 375 degrees.
This is all about the stuffing, really.  Either by hand or in a food processor, shred the bread into small pieces and crumblins and dump into a large mixing bowl.  Dice the onion and sage and add to the bread.  Mix the dry ingredients together briefly by hand.  Add the veggie stock incrementally in small pours until the mixture is just moist (you may not use all of the veggie stock--this depends largely on how dense your bread is).  Add salt and pepper to taste.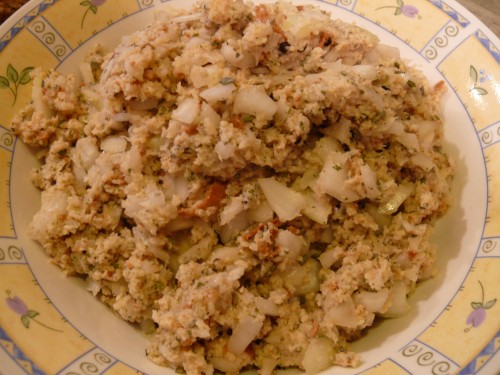 Line a cookie sheet with aluminum foil.  Tear the seitan into smaller pieces (it will probably come in pieces) and form a mound of seitan 8 - 10 inches around in the center of the cookie sheet.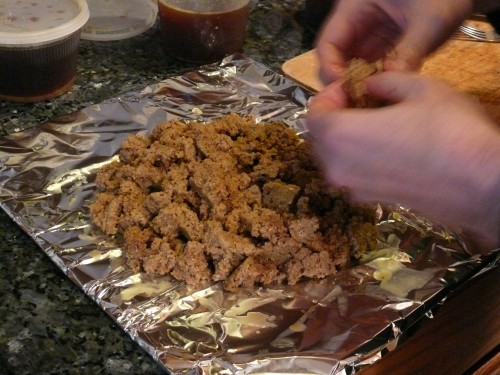 Pack the stuffing over the mound of seitan, preserving the roundness and shape of the mound.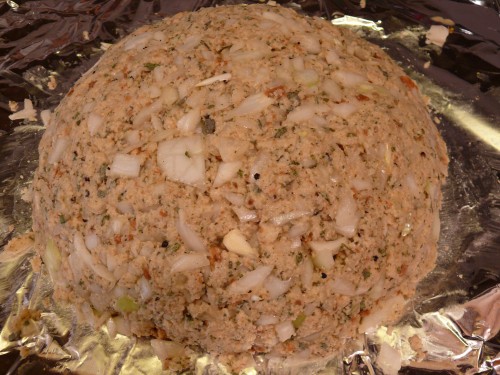 One by one (or two by two like a damned ark if your fillo dough sheets won't cover the whole mound) place the fillo dough sheets on the mound and brush with melted buttery spread.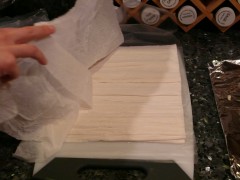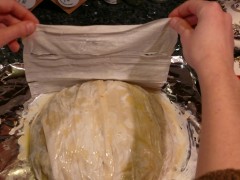 That's right.  EACH layer gets brushed with butter.  This ensures that your crust will be flakier than Lindsay Lohan.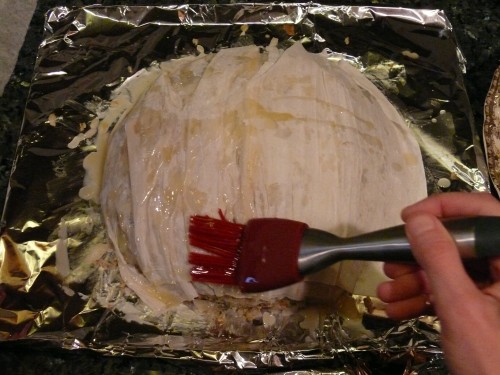 Keep applying dough until you can't see through it anymore and it's a solid brown-white in color (you may later find that you like thinner or thicker crust).
Bake until crust is golden brown.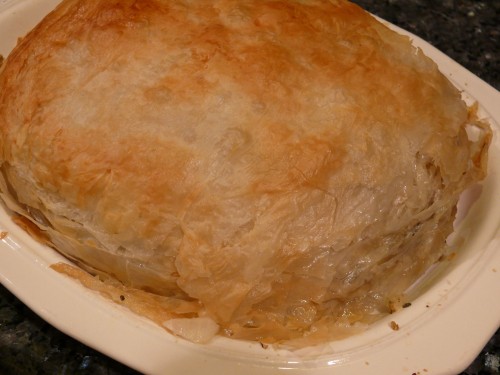 Though it's really good by itself, I recommend a little gravy to go with it.