Last year for Amy's birthday, we went out to a local bar that we'd been meaning to eat at--and they served the most amazing taco salad we'd ever eaten, made vegan just for us. They never seemed to have served it again, though, much to our dismay. So we've had this year-long hankerin' for taco salad which, I'm happy to say, we laid to rest on Sunday.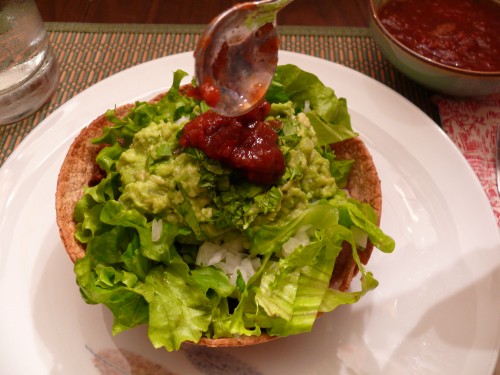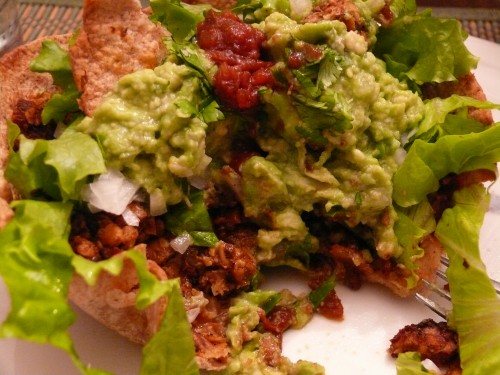 The secret, friends, is making your own refried beans. We'd been using canned refried beans for years and no combination of spices, veggies, shortening, unicorn tears, etc. ever made them even half as delicious as the kind you get in a good Mexican restaurant. So, having just gotten a pressure cooker, what better time than now to try to make these suckers from scratch--and holy hell does it make a difference! I don't know if we can ever go back to canned refried beans again. Maybe in a pinch, I'd use canned pinto beans to make refried beans.
We also experimented for the first time in making our own taco bowls. This was really easy; we just soaked two soft taco shells in a very shallow layer of oil, placed them in oven safe bowls (to shape them), and cooked them for 10 - 15 minutes at 425 degrees Fahrenheit. We did we never think of this before?
The rest of the taco salad is pretty easy--in the baked shell, layer the beans, taco tempeh (follow the recipe for the tempeh), chopped lettuce/onions/tomatoes, guacamole, and salsa.
Here's how to make the beans:
Refried Beans
2 cups dried pinto beans pressure cooked in 10 cups of water for 30 - 35 minutes
OR ~ 3 - 4 cups cooked pinto beans (using your preferred method)
3 cups veggie stock
1/2 white or yellow onion, diced
3 large cloves of garlic, minced
1/4 cup shortening (we used Earth Balance)
2 - 3 tbsps chili powder
2 tsp ground cumin
salt, to taste
1 cup (2 small cans) mild green chilis (optional)
In a large (ideally big enough to hold the beans and stock) frying pan, sautee the onions and garlic in shortening over medium heat, until tender. Add in the beans and 2 cups of the stock and cook for about 20 minutes. Mash the beans to the consistency you like (some people like some whole beans left, some don't). Add the final cup of veggie stock, stir well, and add in spices. Cook for about another 20 minutes, until the excess liquid has boiled off. Adjust spices to taste. This will put any canned refried beans to shame. I'm for serious.