Take heart fellow vegans, small victories are still possible! This year, for the first time ever, we did away with the traditional mixed Spanksgiving (omni/vegan) "Separate but Equal" dinner in favor of something more communal. You know the meal--an entire vegan feast alongside an entire non-vegan feast, a multitude of dishes that are identical, save soymilk, Earth Balance, and veggie stock in lieu of milk, butter, and turkey stock.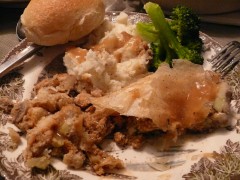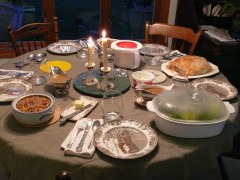 The weekend got off to a great start when we were greeted at the door with vegan oatmeal cookies, which Amy's omni brother deemed "perfect". How awesome is Amy's mom? How awesome is it that Amy's brother, in a single phrase, eliminated any further necessity to make non-vegan oatmeal cookies?
The vegan bonanza continued through to Spanksgiving too; Amy's mom typically makes two dressings (you know, stuffing, but not in the turkey)--one with veggie stock and one with turkey/chicken stock. This year, she decided it was too much trouble and that no one would miss the meat stock, which they didn't. She also traditionally makes both vegan and non-vegan mashed sweet potatoes with candied pecan topping. Though she did decide to make a non-vegan version as well at the last minute, Amy's brother--our omni-acceptability-barometer--decreed the vegan version just as good, freeing Amy's mom from any future obligation to make two versions.
Add to this homemade bread and steamed broccoli and cauliflower (there was a cheese sauce for the omnivores), and you have quite a shared meal! The omnivores had turkey and turkey gravy, while Amy and I had Spanksgiving Seitan Faux-Turkey and seitan gravy--though Amy's dad had some of ours as well.
While it may not always be possible to convince your friends and family of your values, it is possible to achieve acceptance, to build respect, and to erode some of the barriers that keep us from meeting halfway and enjoying a meal together--which, history notwithstanding, is what Spanksgiving is all about.
Spanksgiving Menu:
Dressing
Mashed Potatoes
Steamed Broccoli & Cauliflower
Mashed Sweet Potatoes w/ Candied Pecan Topping
Homemade Rolls
Seitan Gravy
(Cranberry Sauce - Amy's fambly ate this)
(Turkey - Amy's fambly ate this)