There's nothing like a good French Onion Soup to warm the cockles of the heart.
You know, the mollusks that live in your heart. Those. It keeps them warm, like a tiny fire in their little seashell caves.
It turns out our cockles love this recipe from VegWeb, slightly modified.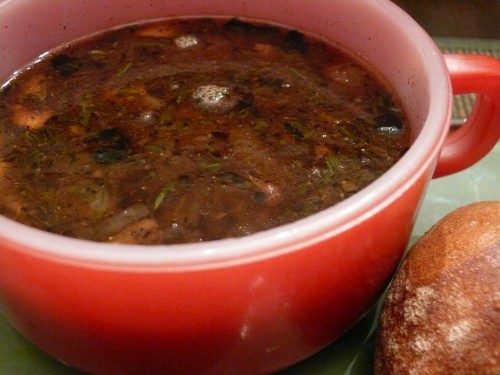 French Onion Soup
4 medium-large onions (white or yellow), cut into rings and halved or quartered
3 tbsp Earth Balance (tm)
1 tbsp salt
1 tbsp dried thyme
1/2 tsp ground mustard seed
3 tbsp soy sauce / gluten-free tamari / shoyu
1/4 cup merlot (do not substitute! A sweeter wine will make this too sweet!)
6 cups veggie stock
salt & pepper, to taste
6 - 8 mushrooms, cut into small pieces
In a large-ish pot, melt the Earth Balance (tm) over medium heat. Once it's melted, add in the onions, coating them. Cook over medium heat for 30 minutes, then add the mushrooms. Cook for an additional 10 minutes, then add the wine and the spices. Cook for about 5 minutes, then add the stock and reduce heat to a simmer (unless you're using bouillon, in which case you'll want to cook at it medium-high heat until the cubes/powder have dissolved, then reduce the heat).
Serve with crusty bread.