<< Back Provençal Potato, Leek, and Celery Soup
Having just delivered her most recent work for the Spring 2010 Collection show at The Gallery Project, Amy finally had a little time on her hands to cook it down in the kitchen. She'd been craving a potato soup for weeks, but doesn't care for really thick soups, and devised this tasty li'l guy. It's got the subtlety of a potato soup, with a hint of sharpness from the celery. And it demands croutons with an iron fist. Obey or perish.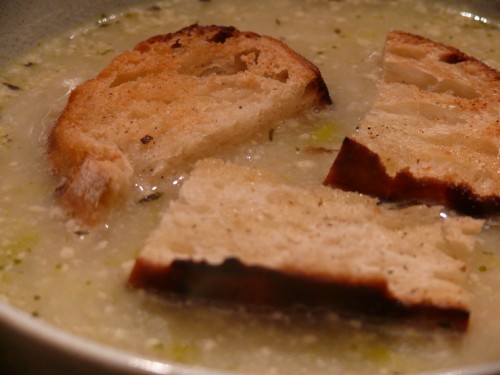 Provençal Potato, Leek and Celery Soup
Four large-ish potatoes with white flesh--such as russet, red, or purple--peeled, then diced
One large white onion, diced
Two or three large celery stalks, diced
Two leeks, diced
Safflower, or another high-heat oil to taste (for sauteing)
Veggie bouillon (I used three cubes of Rapunzel brand, sans salt)
8 cups filtered water
1/4 cup unsweetened soy milk + more to desired consistency
1 tbsp. Earth Balance TM
1 tbsp. white all-purpose flour
1.5 tsp. herbs de provence
salt and pepper to taste
Combine onion, leeks, and celery in a large soup pot.  Drizzle with high heat oil, add a dash of salt and a couple of cranks from a pepper mill, and saute on medium-high heat until onions are translucent and all veggies are soft.  Add potato pieces and cover mixture with 8 cups water.  Bring to a boil.  Once boiling, add veggie bouillon cubes.  (Note: in this recipe, I don't want the veggie stock flavor to dominate, so I use one less cube than normally required for eight cups of water; I use three instead of four).
While soup is simmering, make your roux by melting Earth Balance (tm) in a shallow saute pan.  Add flour and whisk in soy milk.  Allow to heat through and thicken, stirring sporadically.  Once thick, add roux to soup by stirring it in slowly.  Add more soy milk to desired creaminess.  I keep my soup on the brothy side, not caring too much for very thick cream soups, but adding more roux and soy creamer would thicken this soup right up.  Add herbs d'provence and more salt and pepper to taste.  Using an immersion blender, blend some of the veggies to thicken the broth, or ladle a portion of the soup into a regular blender, and blend until smooth.  Add back into soup and stir.
Serve with freshly baked croutons (mandatory).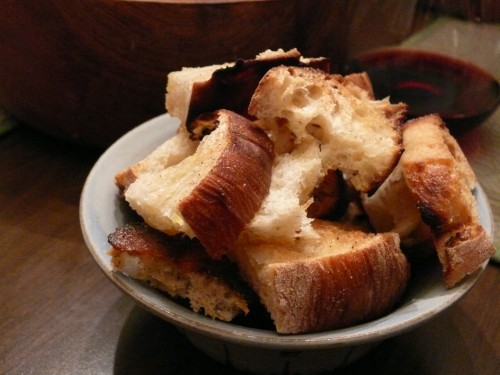 We preceded this with an awesome salad, adapted from a recipe in one of Amy's mom's cooking magazines.
Salad Goodness with Oranges and Candied Almonds
Candied almonds:
1/4 cup almond slivers
1 pat Earth Balance TM
2 tsp. sugar
salt and cayenne to taste
Toast almonds in Earth Balance over medium heat.  When lightly toasted, add sugar, salt and cayenne and stir until coated.  Allow to brown and transfer to a bowl to cool.
Dressing (we tripled these measurements to save some for later in a cruet.  I'm so glad we did- it's my new favorite dressing!):
2 tbsp. red wine vinegar
1 tbsp. honey (you can substitute agave)
1/2 tsp. Dijon mustard
splash of orange juice
salt and pepper to taste
3 tbsp. olive oil
Stir all ingredients to a bowl minus the olive oil.  Quickly whisk while drizzling olive oil into the mixture.  Whisk until dressing is emulsified.
Salad:
romaine lettuce, plus spinach, etc.
1/4 cup thinly sliced red onion
1 navel orange, peeled and sliced
candied almonds
Toss all ingredients together, coating evenly with dressing.  Serve with extra dressing, unless you accidentally drank it because you couldn't help yourself.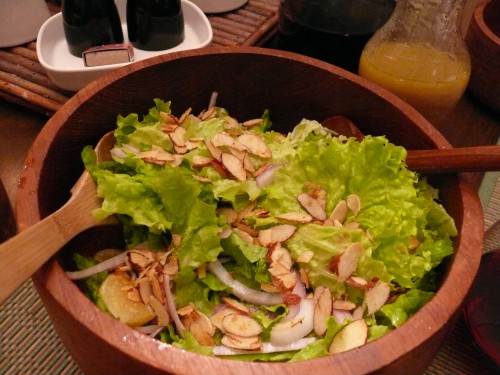 Here's the whole meal: