<< Back Crouton's Best Friend (Green Veggie Soup)
The soup must be brothy, a vehicle for croutons!, Amy demanded (and I paraphrased). And a vehicle for croutons it is! This soup was a hybrid actually, born in equal parts by Amy's demand for a crouton-worthy soup and my need to use up those veggies we bought just in case the opportunity arose to cook for our friends and fambly over the holidays.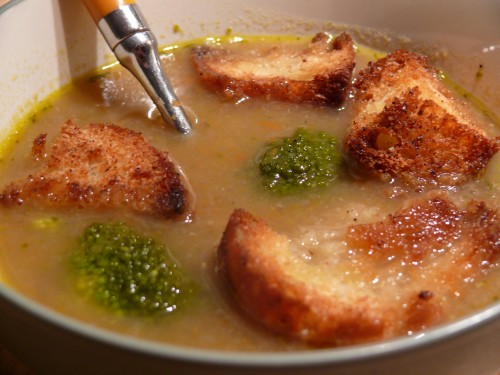 You know how it is. You start with the usual stuff, the onions, carrots, and celery, and then you get to the less usual: a green bell pepper, some broccoli. A pattern emerges; hey, a lot of this stuff is green. Therefore, we exclude the pasty white potato, eschew the black bean, renounce the purple cabbage. Maybe those carrots were a bad idea? No. They are there to remind you of how green everything else is. The flavor, it stands to reason, is then enhanced by red--the arch-nemesis of green--wine. It would be a war in your mouth if but for the courageous crouton.
Green Veggie Soup
2 medium white onions, diced
2 medium carrots, peeled and cut into disks
2 stalks of celery, cut width-wise into half-moons
1 green bell pepper, diced
4 small stalks of broccoli, cut into bite-size florets
1/2 - 1 cup shelled edamame
6 cups of veggie stock
2 cups of water
3/4 cup red wine (Bolla Chianti is nice [and vegan])
2 tsp thyme
1 tsp ground cumin
1 tsp ground mustard seed
salt and pepper, to taste
In a large pot, start this like most soups--by sauteing the onions, carrots, celery and bell pepper in oil over medium heat. When the veggies have softened, scoop out as many of the carrots as you easily can (this isn't critical--you just want something solid to chew occasionally). If you're terribly worried, you can saute them separately. Add in the veggie stock and water, then blend with an immersion blender or in batches in a regular-people blender. Add in the broccoli, edamame, and carrots, then all of the spices, then the wine. Bring to a boil. Reduce to medium heat until broccoli is tender--about 10 minutes--then reduce heat to low and simmer for 15 minutes or more, salting and peppering to taste.
This is best served with fresh croutons. If you have leftover fresh bread, that's best. Cut into whatever size croutons you like, douse with safflower oil (or whatever oil you have handy), then sprinkle very lightly with garlic powder, salt, and pepper. Bake at 400 until they're slightly crisp. A toaster oven is the ideal candidate for this job.