<< Back Potato, Turnip, & Rosemary Soup
If we were honest with ourselves, we'd call this this VeganSoups.org. Every non-soup recipe is really just a holdover until we can make another soup. At least in the 6 month Michigan winter. So here is yet another in a long line of vegan soups.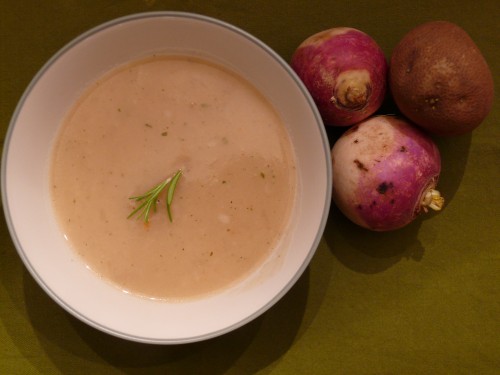 I saw this amazing-looking Potato Turnip soup on Vegan Eats & Treats a couple weeks ago and was intrigued. 'What is this "turnip" you speak of', thought I. I mean, I've heard of turnips. I'm even lead to believe they're in my veggie stock. But ne'er have I cooked a turnip. Nary a one. (Much like the parsnip, which my good friend Jeremy turned me onto.)
As it turns out, a turnip is like a crispy potato with zang!.  This is perfectly complemented by lots of pepper and a healthy smattering of fresh rosemary. This soup can be seasonal for quite some time, too. We're still getting local potatoes and turnips at the coop and our rosemary is happy as a clam (which is happy why?) indoors over the winter.
Potato, Turnip, & Rosemary Soup
1 large white onion, diced
4 large-ish russet potatoes, peeled and cubed
3 medium-sized turnips, peeled and cubed
6 cups veggie stock
~ 1 tbsp fresh rosemary (or 1 -2  tsp ground)
1/2 tsp ground cumin
1/2 tsp granulated garlic
salt & pepper, to taste
This soup is insanely easy. Saute the onion in a large pot over medium heat in oil of your choice (your choice would be awesome if it were Safflower). Add the turnips once you've finished peeling and cubing them. Ditto on the potatoes (they're a bit softer, so they take less time to cook down). Once the onions are soft, add the veggie stock. Bring to a boil, then reduce heat and simmer covered until the potatoes and turnips are soft. Blend! If you've heeded past warnings, portents, and/or implorations, then you'll use your immersion blender. Otherwise, do it the hard way and enjoy the $25 you've saved. I like to leave a bit of the potato/turnip intact, but you might like it smooth, like Barry White. Add the herbs and spices and you're all set. That's it! Easy!