<< Back Tom Kha Soup w/Squash & "Thai" Salad
Of all the soups on this Earth, the Thai Tom Kha is among my favorites.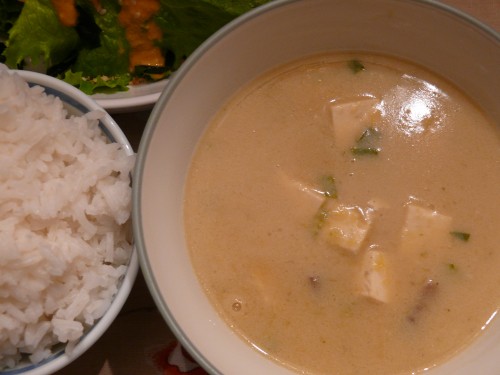 We were introduced to it at the Thai Pavilion in DeKalb, IL--where I was introduced to Thai food in general. There seem to be lots of varieties of this tofu & coconut soup--some sweet and rich, others more savory--and the Thai Pavilion's was sweet. Perhaps because that's the Tom Kha I first loved, it's the one I love best, and the one I've been striving for years to reproduce at home--with mixed levels of success. I had half an acorn squash and shloads of tofu on hand from the Indigenous Scramble, and a hankerin' for soup, so this seemed like the perfect time to once again attempt a Tom Kha. This version is only slightly modified from Nancie McDermott's Real Vegetarian Thai, a book I've been faithfully neglecting for years. Also, this version was pretty awesome.
Tom Kha w/Acorn Squash
2 cans of coconut milk
1.5 cups of veggie stock
fresh ginger, cut into about 20 quarter-sized disks (the recipe calls for galanga, but we never seem to have that on hand)
10 peppercorns
zest from an entire lime (in theory, kaffir lime leaves are more authentic, but also harder to come by)
1/2 lb extra firm tofu, drained and cubed
1/2 acorn squash, skinned and cubed
6 mushrooms, cut into fourths (or slightly smaller if they're large mushrooms)
2 tbsp lime juice
1 tbsp soy sauce (or gluten-free tamari)
4 stalk of lemon grass (we left these out and it was still delicious; you can also use lemon grass powder)
1 tbsp brown sugar (optional)
green onions, chopped
salt, to taste
In a medium to large pot, bring coconut milk and veggie stock to a boil. Add in the ginger/galanga, lime leaves/zest, peppercorns, and prepped lemongrass (if using) and reduce heat to simmer. We had leftover baked acorn squash, I just removed to skin and cubed it. For firmer squash, you'll want it uncooked--which means that you'll need to pare off the skin, then cube. Add the squash and mushrooms and bring back to a boil, cooking for 10 minutes. Add in the remaining ingredients, cooking until the tofu is heated through and has acquired some of the soup's deliciosity.
This is best served (and we think traditionally) with rice on the side. Take a spoonful of rice and dunk it in the soup, occasionally grabbing some tofu, squash, or a mushroom. Place contents in your mouth. Rejoice.
We had this with a "Thai" salad--essentially a Western salad, but with a Peanut Sesame Ginger dressing, peanuts, sliced clementine, and a bit of wakame on the salad.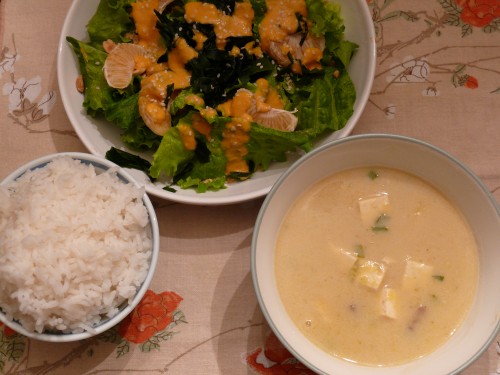 Thai Peanut Sesame Ginger Dressing
2 tbsp rice wine vinegar
2 tbsp peanut oil
3 tbsp water
6 tbsp safflower oil
1 tbsp sesame oil
2 tbsp soy sauce (or gluten-free tamari)
1 tbsp freshly grated ginger
1 tbsp natural peanut butter
1 large carrot, peeled
1 tbsp red thai curry paste
1 tbsp chopped onion
Blend all ingredients in a blender until smooth.