<< Back Middle Eastern Yellow Dal with Spinach-Potato Dumplings
There are two popular types of yellow dal--the heavily-spiced, tomato-y Indian version and the subtle, lemon-y Middle Eastern variety. At home, we tend toward making the Middle Eastern version--especially since our favorite Middle Eastern place Al Noor went out of business.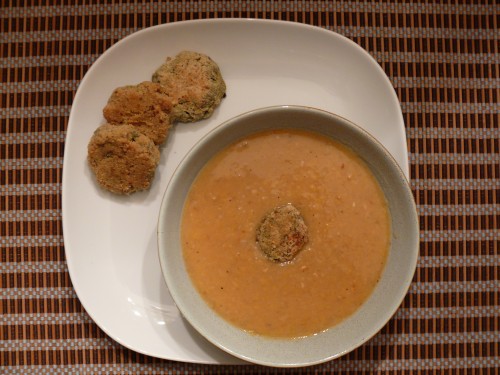 With the soup in mind, I need something else to round the meal out. Traditionally, this would be falafel or hummus & pita, but I'd just made hummus two nights ago and require substantial motivation to bust out the falafel. I was hankering, instead, for something more like pakora. I didn't have any chickpea flour on hand, though, so I had to rethink things a bit. I came up with lightly breaded spinach-potato dumplings--to be eaten in the dal. Traditional? Nope. Delicious? Indubitably.
Middle Eastern Yellow Dal
1 large white onion, diced
4 - 6 cloves of garlic, minced or pressed
2 cups yellow lentils OR yellow split peas (not quite the same, but either will work; yellow lentils can be tough to find)
1 tsp ground cumin
1/2 tsp ground coriander seed
juice from 1/2 lemon (or more, to taste)
9 cups of water
olive oil
salt & pepper, to taste
As you can see from the ingredients, this is a pretty simple recipe. I've of the school that a dal should generally be simple, letting the flavor of lentils or split peas really come through.  All you want to do is accent this flavor, not cook on top of it.
In a large pot, saute the onion and garlic in olive oil over medium heat. When the onions are soft, add in the lentils/peas, stirring well. Let the lentils/peas cook for a few minutes, then add in the water. I like to add the water piecemeal--just enough to cover everything--and cover. This allows you to control exactly how thick or thin your dal is, but also requires a little babysitting. You can probably just add all of the water, cover, and occupy yourself with something else for a good 2 hours. Lentils/split peas take a while to cook.
When the lentils/peas finally get soft and are breaking apart, add in the spices and lemon. Cook for another 15 minutes or so.
Breaded Spinach-Potato Dumplings
3 medium-sized potatoes, peeled and cut into large pieces
1/2 lb spinach
1/4 cup flour (or chickpea flour, for gluten-free)
3 tbsp cornmeal/corn flour
2 tbsp almond meal
2 tsp ground cumin
1 tsp ground coriander seed
safflower oil
salt & pepper, to taste
Preheat your oven to 425 degrees Fahrenheit.
In a medium-sized saucepan, boil the potatoes until they are soft--almost as soft as if you were making mashed potatoes. If you are using fresh spinach, steam it until it's soft, then cut it into shreds. If you're using frozen, you can boil it for a few minutes in the same water you used for the potatoes. I used frozen, but almost always prefer fresh. In a large bowl, mash up the potatoes with the spinach. Stir in the flour. You want the mixture to be thick enough to form balls. Add more flour if needed.
In a small bowl, mix the remaining dry ingredients. Form spinach-potato mixture into balls, roll in the oil, roll in the breading, then place on a baking sheet. This should make around 18 - 20 dumplings.
Bake 20 minutes to a side, or until nicely browned and somewhat crisp.
Serve in the soup: