<< Back Hospitaliano, Irreverent Vegan Style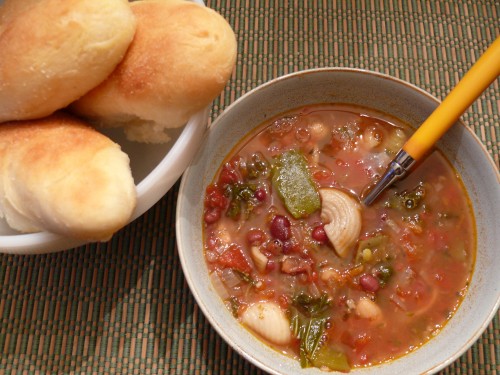 If you're like us, you often feel nostalgic for things that maybe aren't that awesome. But there's a context, a larger experience that imbues them with something better, gives them a prominent place in our happy memories. The Olive Garden is one of those for us. For both of our families, it was one of the "going out to eat someplace 'fancy'" defaults. When we (independently of each other) became vegetarian, it became an even better option, since there were still many things on the menu we could eat. Once we became vegan, though, things got a little dicier. Depending on who you ask, the minestrone, breadsticks, capellini pomodoro, and salad are or aren't vegan. The pasta may or may not have eggs. The marinara may or may not have meat broth. The salad dressing definitely has cheese in it--there are no vegan dressings.
Since (a) we've never been able to get a straight answer and (b) we now live in an area with other family-suitable options (namely, Chinese), we don't eat at the Olive Garden any more. But every once in a while, we get the hankering for the enveloping warmth of minestrone and hot fresh breadsticks--and a big ol' vegan salad. So last night, we created some real "hospitaliano"--vegan style.
The minestrone was only slightly modified from this excellent recipe.
Olive Garden-style Minestrone
1 medium-sized white onion, diced
4 - 6 cloves of garlic, minced or pressed
1 stalk of celery, diced finely
1/2 medium-sized zucchini, cut into small one-inch pieces or half-moons
1 small carrot (or half of a large carrot), grated
a large handful of Italian/Spanish-style green beans (the flat ones--you can sub normal green beans in a pinch), cut into one-inch pieces
4 large stalks of kale (the curly kind), cut from the stalk and chopped coarsely
4 cups (2 cans) of cooked kidney beans
2 cups (1 can) cooked cannellini beans or white beans
4 cups (1 large can or 1 large jar) cooked tomatoes, with their juice
4 cups veggie broth
3 cups water
1/2 cup small shell pasta
2 tbsp fresh parsley, minced
1.5 tsp dried oregano (1.5 tbsp fresh, minced)
1/2 tsp dried basil (1.5 tsp fresh, minced)
1/4 tsp dried thyme (1 tsp  fresh, minced)
salt & pepper, to taste
1/4 - 1/2 cup red wine (optional)
As you'd expect, saute the onion, garlic, and celery in a large pot over medium heat--in the oil of your choice (I recommend choosing safflower). When the onion has gotten soft, add in the broth, water, tomatoes, carrots, and herbs/spices. Bring it to a boil, then reduce heat and simmer for 20 minutes. In a separate pot, cook the shells. When they're done--but al dente--remove from heat, strain, and blanch with cold water. This will help prevent them from getting as bloated and mushy in the soup. A lazier person may decided to add the shells directly to the soup. But you wouldn't do that. This is hospitaliano.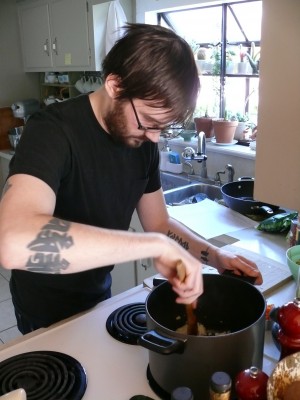 Once the 20 minutes is up, add in the remaining ingredients and cook until the zucchini and green beans are tender. It's this crucial step that allows you to trump the Olive Garden--you can add veggies in at the end, ensuring their crispness, a paean to non-flaccid vegetables.
Now let's trump their bread.
We used this recipe, unmodified, but reposted here for your convenience.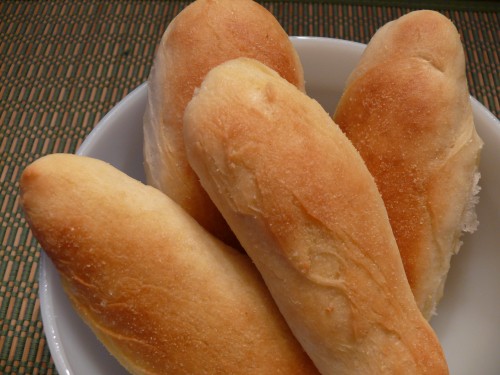 Breadsticks
1 1/3 cups of water
4 tsp melted Earth Balance (tm)
4 cups of flour
2 tbsp sugar
2 tsp salt
2 tsp yeast
additional melted Earth Balance (tm), for brushing on top
additional salt, for sprinkling on top
granulated garlic, for sprinkling on top
Combine all of the dry ingredients, minus 1 cup of flour, ideally in a mixer, using the bread hook attachment.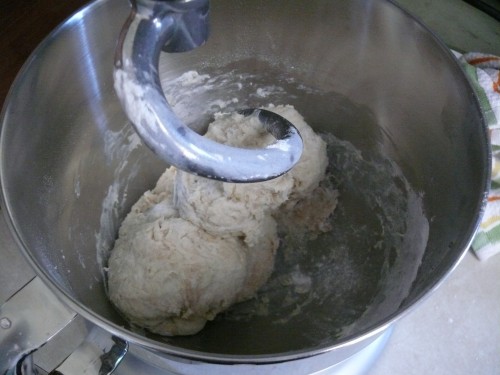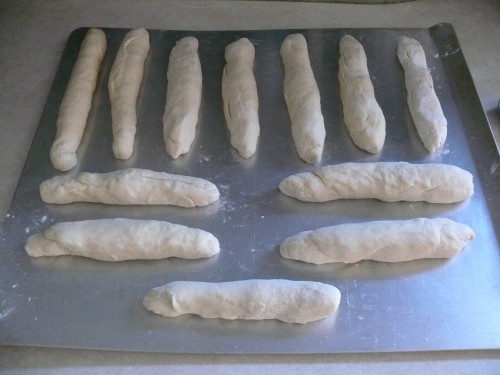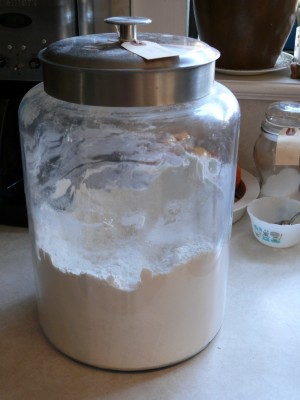 (We like to keep a giant thing of flour on hand so we can make bread any time we want.)
If you don't have a mixer, you can theoretically mix by hand and then knead (we just got one for christmas and this was it's maiden voyage--it was awesome). Combine the wet ingredients in a separate bowl/cup and then add slowly to the dry, while mixing. Now add in the remaining flour. Once the dough is mixed well (about 2 minutes in the mixer), roll out in to 16 long pieces. (We made about 12 and they were slightly fatter than the Olive Garden's, but still awesome.)  Cover them and let them rise for at least 45 minutes. Preheat oven to 400 degrees, Fahrenheit. Brush the bread with Earth Balance (tm) and sprinkle salt on top.  Bake for 15 minutes. When you take them out, brush with Earth Balance (tm) again and then sprinkle with granulated garlic.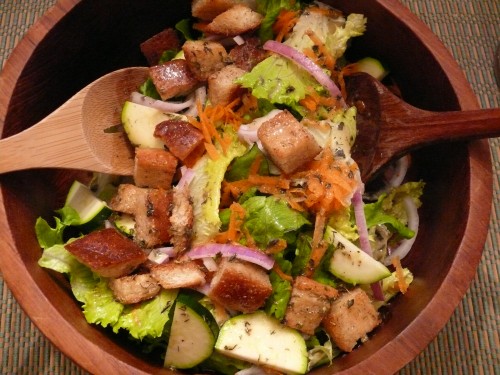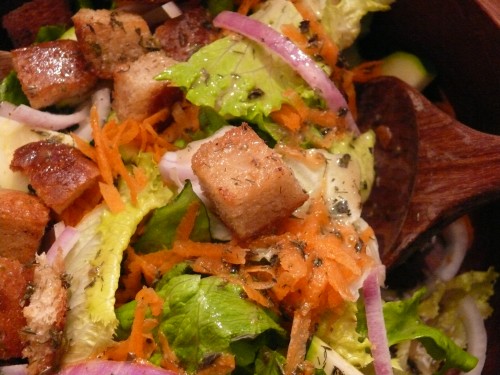 The salad, to be faithful to the OG original, should have lettuce (obviously), croutons, purple onion, roma tomatoes, black olives, peppers, and shredded carrots. We didn't have any fresh tomatoes or black olives (which I don't like) on hand, so we had to make due with some sliced zucchini instead. We made the croutons fresh, from a piece of bread cut into squares, lightly doused on olive oil, salt/pepper/garlic-ed, and toasted. The original salad should also have some sort of cheesy mayonnaise vinaigrette dressing, which we didn't deign to copy. Instead, we made this vinaigrette, slightly modified.
Italian Vinaigrette Dressing
1/2 cup olive oil
1/2 cup wine vinegar
1 tbsp Dijon mustard
1/2 tsp fresh dill
1/4 tsp dried oregano
1/4 tsp dried thyme
1/4 tsp dried basil
2 tbsp lemon juice
1 tbsp agave nectar
pepper to taste
Combine ingredients in a cruet and shake well.
When you're vegan, you're family!