<< Back Raw Food Tuesday: Pesto Pasta & Rawsage
Amy decreed yesterday that today would be Raw Food Tuesday (stolen shamelessly from What the Hell Does a Vegan Eat Anyway), which probably means that we shouldn't have had that Chik'n Club Sammich for lunch...we did, however blaze a new trail in raw food dinners. Well, a new trail for us: rawsage & pesto-laden zucchini-based pasta with mushrooms.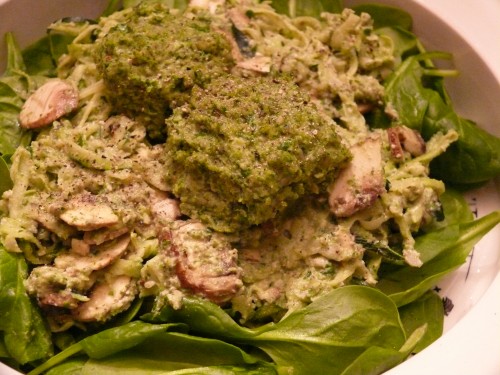 Eating raw is something you hear about or read about and know that it has to be awesome, that you'd feel like a new person if could get over your need for hot things; if you didn't love cooking; if bread weren't so tasty. You even know that you don't have to always eat raw, just that now and again it'd probably be really good for you. But when it comes time to dig in, you give in to the temptation of cooking. Well, if you're anything like us you do.
Not that we've never eaten raw--just had a big ol' salad for dinner or gone to a raw restaurant--we just don't tend to "cook" raw.
This recipe is from The Complete Book of Raw Food, a book we've owned for years and scarcely cracked open. The results from our first foray were largely good, with a few minor caveats. The rawsage, while delicious, was pretty much just a zesty pesto. It wasn't at all solid and tasted closer to pesto than to sausage. The zucchini turned out pretty tasty, and worked fairly well just using a grater. It probably would have been fluffier--and thus more enjoyable--if we had one of those spiral-y duders. I halved both recipes (since they were supposed to serve 4) and was surprised at how little there was. I thought we'd be scavenging for more food within minutes of completing the meal, but it was astonishingly filling. One small plateful and we were both very satisfied. In general, I hear that raw food is more filling (since none of the nutrients have been cooked out), so you typically don't need to eat as much of it.
We made a few modifications, so check it:
Pesto Pasta & Rawsage
Rawsage (aka Zesty Pesto...errr...Zesto!)
3/4 cup raw, shelled pumpkin seeds
small handful of fresh basil
1/4 head of lettuce
2 - 3 cloves of garlic
1/4 cup onion powder
1/4 cup olive oil (less if you're going for something more solid)
1.5 tsp dried sage
1/2 tsp fennel or caraway seed
1/2 tsp salt (optional)
Grind everything together in a food processor. Try it without the olive oil if you want to get these into proper patties. Just add it little by little to get the desired consistency. For this recipe, you'll use half of it in the pasta; so if you're going for patties, start with no olive oil and use half of ground mix to make patties. Then add 1/8 cup of olive oil and grind some more for the pesto part.
Raw Pesto Pasta
1 medium-sized zucchini, spiraled or grated
~ 6 small-medium-sized mushrooms, sliced very thinly (optional)
sun-dried tomatoes, soaked until soft and sliced (optional; we didn't use these this time)
2 large handfuls of spinach
Zesto! from above, or perhaps a few frozen pesto cubes
olive oil, balsamic vinegar, and/or pepper to dress
In a medium-large-ish bowl, mix the zucchini, mushrooms, and Zesto!/pesto. When the zucchini-noodles are nicely coated, toss a handful of spinach into a plate, bowl, or, ideally, bowlplate. Spread the pesto pasta over the spinach. Garnish with sun-dried tomato strips, rawsage patties, olive oil, balsamic vinegar, and/or pepper. Be forewarned: this is really filling!