Welcome to yet another iteration in our quest for the perfect chili.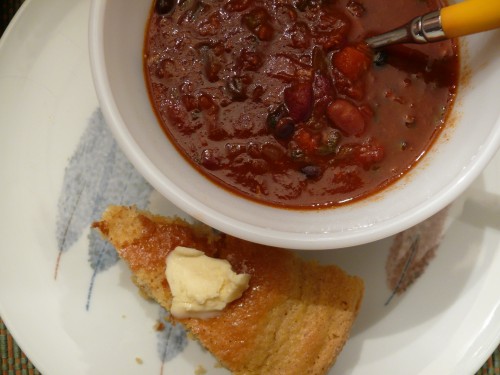 One of our favorite local restaurants, Beezy's, serves an amazing Pinto Poblano soup; it combines the best aspects of chili, black bean soup, and refried beans--with zang! The poblano features heavily in a lot of their scrambles as well. I was familiar with the poblano in its dried (ancho) form, but had never really paid this superlative pepper much heed. So I got to thinking: Why not switch things up a little and use roasted poblanos in my usual chili? And while I'm at it, why not ditch the carrots and celery and use red and green bell peppers? With the poblanos in action, I was able to tone down the spices, relying more on the fresh peppers for zest. The poblanos, along with a dash of smoked chili powder and a splash of red wine, made this a much richer, smokier chili. Best served with cornbread made in your grandma's skillet.
Roasted Poblano Chili
1 large white onion, diced
1/2 large green bell pepper, seeded and diced
1/2 large red bell pepper, seeded and diced
3 medium - large poblano peppers; roasted, peeled, seeded, and diced
6 cups (1.5 large cans) cooked tomatoes, peeled
2 cups cooked red kidney beans (~3/4 cup dry)
2 cups cooked black beans (~3/4 cup dry)
1 cup cooked pinto beans (~1/4 cup dry)
2 - 3 cups liquid from beans and/or water
4 cloves garlic, pressed or minced
1 tsp chili powder
1 tsp smoked chili powder
1/2 tsp ground cumin
1/2 tsp oregano
1/4 cup of red wine (we used a zinfandel [Paul Dolan is vegan])
salt, to taste
If you're using dried beans, start them first. They'll be just about ready when you need them (if you're pressure cooking them), as the poblanos will take a while too.
For the most part, this is a pretty easy recipe. It's roasting the poblano's that's a bit tricky. Everyone has a different story about how this is best done. Some folks like roasting directly on an oven burner, some like cooking directly in a skillet, some like broiling in the oven, others like using a toaster oven. We have an electric stove, so the range (first) method was right out. And the toaster oven is just a smaller, more concentrated oven, right? So toaster oven it was. Pop the poblanos in on the toaster oven's highest setting. When the tops start to bubble and turn black, flip them. Bake until both sides have bubbled up.
(Meanwhile, start the onions, red and green bell peppers, and garlic [in that order] cooking in a large pot over medium heat, in high heat oil of your choice.)
When they're done, put them in a ziploc bag for 15 minutes. This allows them to sweat (which allegedly makes them less bitter and makes them easier to peel). For peeling and seeding, you want to wear latex gloves. These aren't as bad as jalapenos or habaneros, but you still don't want their juice in your eye. Unless you're into that sort of thing, in which case you should invest in some Pukka Sauce (tm) and be done with it. The skin should peel off pretty easily. The poblanos will be a bit soft, so you'll want to be fairly careful. Once you've gotten the skin off, remove the seeds. You should be able to tear them open and just pull the seeds out. Now you're ready to dice them up, which you should do.
Throw them in with the onions, peppers, and garlic.
Once the onions and pepper are soft, add in the herbs and spices, then the tomatoes. Next, add in the beans, along with 2 - 3 cups of bean liquid or water. Bring to a boil, then reduce heat to low and simmer for at least 30 minutes, ideally longer. Add in the wine if you're using it and salt to taste.
Serve with cornbread.
Cornbread
We used this cornbread recipe. Secrets two, there are, spake thusly: (1) use your grandma's cast-iron skillet to bake in, and (2) flip the pan upside down to dump out the cornbread cake, then flip it again so it's right side up. Marvelous!