<< Back Roasted Veggies, Quinoa, & Teriyaki-Glazed Tofu
Every once in a while, "Use whatever is about to go bad" isn't an act of desperation, a culinary hail mary; it's a reminder to your current self that your past self had BIG plans. Stop cooking like a jerk and use those Brussels sprouts, green and red peppers, onions, carrots, potatoes, mushrooms, tofu, and quinoa. So maybe this is a little extreme in that I used everything--but the result was a pleasantly awesome surprise: Roasted Veggies, Quinoa, & Teriyaki-Glazed Tofu.
We've had roasted vegetables on the brain since Amy's birthday dinner at Eve and only now just got around to trying our hand at them post-Eve. We used a greater variety of veggies than she did, so ours turned out pretty different, but were still pretty tasty.
Roasted Veggies & Quinoa
Veggies

1/2 large green bell pepper, cut into bit-size pieces
1/2 large red bell pepper, cut into bit-size pieces
1/2 large white onion, cut into petals
1/2 large purple onion, cut into petals
1.5 heads of garlic, minced coarsely
4 medium-sized potatoes, peeled and cubed
1 large carrot, peeled and cut into disks
1 bag  (~4 cups) of Brussels sprouts, cut in half
Quinoa
2 cups quinoa
4 cups veggie stock
Preheat your oven to 400 degrees Fahrenheit. Toss the veggies in a high-heat oil in a 13" x 9"  baking pan/casserole dish. Salt and pepper. Toss some more. Salt and pepper some more. Pop it in the oven for 15 minutes. Remove and stir, adding oil if things seem dry. Pop it back in the oven for another 15 minutes and stir again. Finally, bake for a paltry additional 15 minutes.
Meanwhile, prepare your quinoa. Bring the veggie stock to a boil (or bring water to a boil and toss in your bouillon). Add in the quinoa. Cook until the broth has boiled off and the quinoa is soft enough to eat, but still a tad crisp (unless like it mushy, in which case you can cook it as long as you like). Salt it, if need be.
Serve the veggies on or adjacent to the quinoa. Fantastic!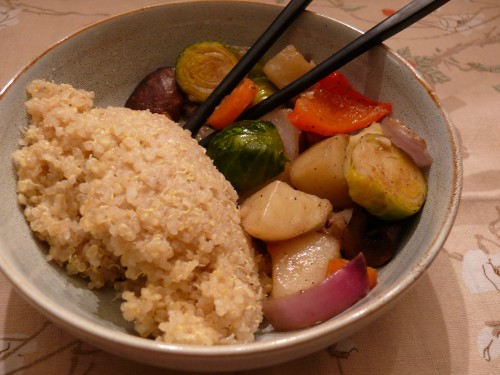 For some reason, I've also had a wild hare to make baked glazed tofu. I was finally spurred into action by Zoa at The Airy Way, who in turn was inspired by this recipe from Vegan Planet. I followed the marinade recipe exactly, but the tofu just didn't have the zang I was hoping for when it was done. Maybe I didn't marinade it long enough? Is 2 hours sufficient? So I decided to augment the remaining marinade and create a drizzly/dipping glaze, which did the trick nicely.
Teriyaki-Glazed Tofu
1 lb tofu, pressed and cut into thin triangles
6 tbsp soy sauce (or gluten-free tamari)
6 tbsp orange juice
2 tbsp sesame oil
2 tbsp maple syrup
1 tbsp peanut oil
2 tsp cornstarch
1 tbsp soybean paste
Marinade
Combine half of all of the above ingredients, except the soybean paste, cornstarch, and peanut oil. Marinade the tofu in this. For a long time. 2 hours didn't seem like enough to me. I'd recommend overnight, if you're the kind of person that can start preparing a meal that far in advance (which I am not). Bake the tofu at 425 degrees, 15 - 20 minutes to a side--flipping when nicely browned. Like cookies, these will firm up once they sit out for a few minutes, so try not to overcook them (though even overdone, they're still delicious).
Meanwhile, combine the remaining ingredients, except the soybean paste and cornstarch in a small saucepan over medium heat. Slowly whisk in the cornstarch, thickening. You can use a little less if you like the sauce more drizzly. Finally, stir in the soybean paste. Remove from heat and either drizzle on the tofu or pour into small dipping vessels.
Magnifico!