After making an Olive Garden-style minestrone, it seemed only natural to make the zuppa toscana as well. Since we had leftover breadsticks, it was another awesome replica. This soup is very much like the Spicy Potato & Kale Soup, but less spicy and much richer. I used a modified version of our tempeh soyrizo, and the leftover fakin crumblins from Tofu MarkMuffins. You're always stuck with those crumblins, too thrifty to throw them out, but at a loss as to what to do with them. This soup is the answer!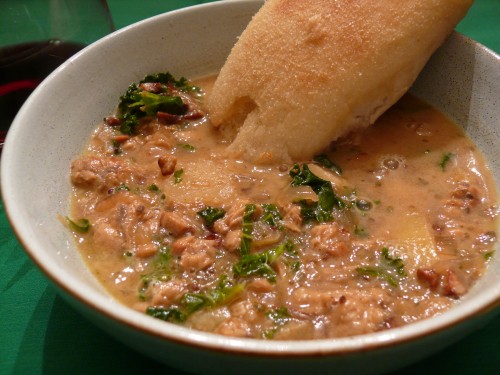 Zuppa Toscana
1 large white onion, diced
1 package (1/2 lb) tempeh
4 tbsp fakin bits
3 medium-large potatoes, peeled and cubed
4 large stalks (half a bunch) of curly kale
6 large cloves garlic
2 tbsp oregano
1 tsp crushed red pepper
1/2 tsp ground cumin
1/4 cup soy sauce (or gluten-free tamari)
4 cups veggie stock
4 cups water
1.5 cups soy creamer
salt & pepper, to taste
Tear the tempeh into pieces, leaving some larger chunks. In a small-medium-sized bowl, mix the soy sauce, oregano, cumin, 2 cloves of garlic, and crushed red pepper. Put the tempeh into a large bowl, then stir in the mixture, coating all of the tempeh evenly. Let this sit for for 15 minutes or more before using–it lets everything soak in.
In a large pot, saute fakin bits in oil, over medium heat. When they've browned and are starting to get crips, add in the onion, tempeh, and garlic. When the onions are soft, add in the potatoes, veggie stock, and water. Bring to a boil then reduce heat to simmer. When the potatoes are soft, add in the soy creamer and kale, salting and peppering to taste.
Serve with breadsticks!