<< Back Breakfast Day!--> Buttermilk Pancakes and Rainbow Chard Tofu Quiche
Mark agreed to do the dreaded task of mulling through the taxes today, so I wanted to take good care of him and feed him well all day.  For some reason, I feel like having breakfast cooked for you is one of the most comforting acts someone can perform, so I declared it breakfast day and decided to make a couple of different breakfasts throughout the day.  I decided to indulge and make some pancakes for actual morning-time breakfast.  I adapted this recipe from Vegweb.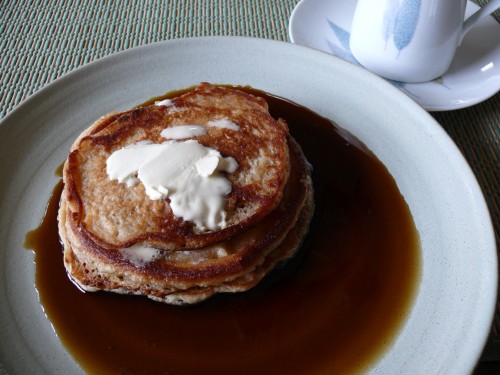 Buttermilk Pancakes (emphasis on butter)
On Vegweb, this recipe called for Egg Replacer and oil in the pancakes.  I like a buttery taste, and use Egg Replacer as seldom as possible, so I substituted apple sauce for the egg and melted Earth Balance (tm) for the oil.  To make the pancakes fluffier, I used a little apple cider vinegar to curdle the soymilk and make buttermilk.
1 cup white all purpose flour
2 tsp baking powder
1/2 tsp salt
3 tbsp sugar
1 tsp vanilla
1 tbsp apple sauce (we use apple cinnamon flavor)
1 cup soymilk
1/4 tsp apple cider vinegar
2 tablespoons melted Earth Balance (tm) plus more for cooking
Mix wet ingredients in a medium sized bowl.  Mix dry ingredients in a larger bowl. Pour wet ingredients into dry - mix well until smooth consistency.
Dollop some batter onto medium heat (preheated) pan with a pat of Earth Balance (tm) melted into it. Flip over when each pancake begins to bubble on top and goes from shiny to matte.
Serve with toping of your choice- ours is more Earth Balance (tm) and piping hot real maple syrup.
Yum-er-oo!
Rainbow Chard Tofu Quiche
The other day we were at our local coop and saw a beautiful bunch of rainbow chard, which we had never really worked with before.  A recipe from the latest (March/April 2010) issue of VegNews involving chard came to mind and we snapped it up.  Having declared today breakfast day, I decided a yummy quiche should be our dinner and busted out the VegNews.  Now you recall the great quiche-off of 2009.  I was never hot on either of those quiches.  I think it's because we tried to get all cheesey with them, when this quiche is perfect without any kind of cheese substitute.  This one is also so much "eggier" somehow- fluffier, not pastey like the other two.  At any rate, here it is, re-written by us here for you, and adapted a tiny bit based on the ingredients we had on hand.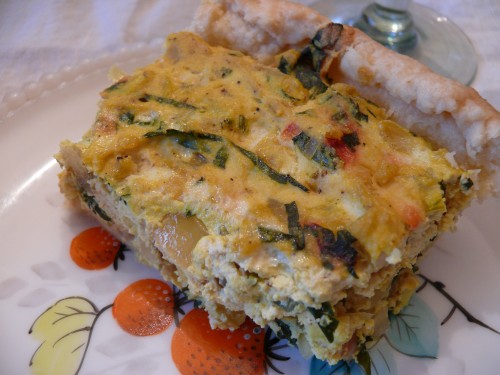 First make the Basic Flakey Pie Crust:
(the recipe calls for shortening, but I didn't have any, so used our friend Earth Balance (tm) instead and upped the amount to increase the fat content)
1 1/2 cups all purpose flour
1 tsp salt
3/4 cup cold Earth Balance (tm) (the recipe calls for 1/2 cup of vegetable shortening)
1/4 to 1/3 cup of very cold water
In a large bowl, mix together flour and salt.  Slowly cut Earth Balance (tm) into flour mixture, until you are left with pea-sized balls of flour-butter mixture.  Drizzle a tiny amount of the water over the mixture and gently work it in, first stirring, then moving into kneading when it seems solid enough.  Repeat with water until a firm, slightly sticky ball of dough has formed.  Wrap dough in a large sheet of wax paper and refrigerate for an hour.
Spred out wax paper on your countertop (I used a rolling mat so the paper wouldn't slip).  Lightly flour your rolling pin and gently roll out dough, working from the center outward until dough is 1/4 inch thick.
Picking up the wax paper, carefully flip the dough over and lay evenly onto a pie plate. Tear off pieces of excess dough and patch any holes uneven areas around the edges. Fill with quiche filling and bake according to directions below.
Rainbow Chard Tofu Quiche (filling and baking directions)
1 lb. firm tofu, drained
1/3 cup unsweetened soymilk
1 tbsp safflower oil (the recipe calls for olive oil)
5 cloves garlic, minced (the recipe calls for 2)
1 medium yellow onion, peeled and diced
1 tsp salt (the recipe calls for 1/2 tsp)
1 tsp oregano
1/2 tsp turmeric
a few cranks of pepper from a pepper mill (the recipe calls for 1/8 tsp)
1 medium-sized bunch of rainbow chard (the recipe calls for a large bunch of red chard) leaves thinly sliced and stems finely diced
1 Basic Flakey Pie Crust
Preheat oven to 350 degrees.  In a food processor blend the tofu and soymilk until smooth and set aside.
In a saute pan, heat safflower oil over medium-high heat.  Add garlic, onion and salt and cook for several minutes until onions are translucent.  Add oregano, turmeric, pepper, and chard.  Cook until chard leaves are bright green and stems have softened.  Turn off heat and fold into tofu mixture.  The recipe doesn't specify, but I would taste the mixture at this point and add salt and/or pepper to taste.
Pour mixture into prepared uncooked pie crust, spreading smoothly and evenly.  Bake for 25 minutes, remove from oven, drizzle top with a touch of oil, rotate and place back into oven for 20 more minutes for a total 45 minutes of cooking time (or until crust is golden brown).  Let cool and eat up!
This is our new go-to quiche recipe!
We served the quiche with a little fruit salad of apples and clementines and mimosas to celebrate the completion of taxes (with a nice little return) for yet another year!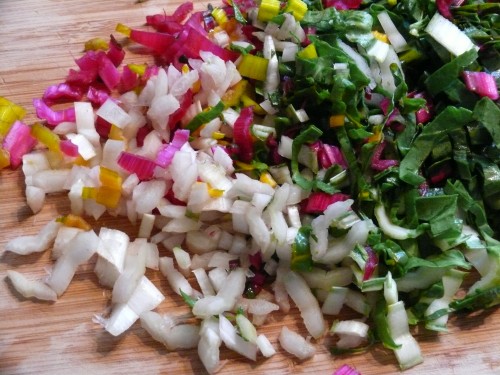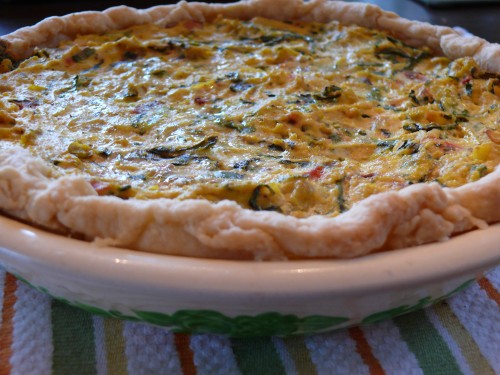 As a side note, even though we still have a bit of winter left here in Michigan, our seedlings for our garden are growing up up up!  We spent the after-dinner hours transplanting the lettuce, kale and tomatoes into larger pots so they can grow big and strong.  Behold: