Disclaimer #1: As is oft the case, I point judicious readers to our ubiquitous confessional "Why I can't be trusted". But still, observe: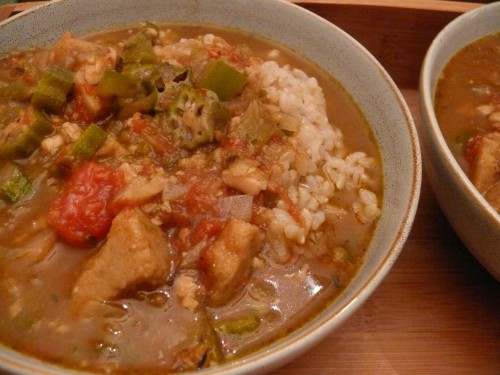 Gumbos are like unicorns, all alike, but no two exactly alike. There's a sort of conventional gumbo wisdom that says you need a few common things, but that you are allowed--nay, expected--to play, to invent, to take ownership of your particular gumbo. These things are:
The Southern Soup Holy Trinity: Onion, celery, and green bell pepper. The standard trinity uses carrots instead of peppers.
Okra: Okra.
Roux: This is usually a 1:1 mix of flour and fat (butter, oil, shortening, bacon grease, etc). A gumbo is supposed to be somewhere between a soup and a stew. I find that the natural emulsifier in okra thickens the gumbo to the almost-stew stage on its own, so I ditched the roux in this version. A more authentic version would probably keep the roux and up the stock and/or water.
Meats: These are usually sausage, chicken, and shrimp. We used our tempeh soysage and Joanna/Jennifer's Seitan Chik'n.
Seasoning: These include cajun spice and gumbo file (fee-lay) powder among others. You can buy a premade cajun spice or make your own. Gumbo file is made from ground sassafras root, sometimes with ground thyme as well. The gumbo file may be a little hard to track down. Our local coop had it (so any place with a good selection of Frontier brand spices). You can also look for ground sassafras.
Tomatoes: Tomatoes.
Disclaimer #2: I fully expect Jennifer from Scrumpdilly to correct me if any/all of this is wrong. She's actually from Louisiana. She's made gumbo before. I've eaten it. There's no recipe. Real Southerners keep their gumbo recipes in lead-lined wooden boxes, buried beneath their homes, guarded by raccoons. Fact.
Gumbo
1 lb okra, cut into disks
1 lb tempeh soysage
3 seitan chik'n cutlets, cut into strips
1 large white onion, diced
2 small - medium stalks celery, diced
1 large green bell pepper, seeded and diced
2 cups veggie broth
2 cups water
4 cups tomatoes, with juice (1 large can)
1 tsp cayenne
4 tsp cajun spice
2 tsp gumbo file powder
As with most soups, you'll want to start by sauteing the onion, pepper, and celery in a large pot over medium heat. When they start to soften, add in the soysage and chik'n strips, browning lightly. Add in the broth, water, tomatoes, spices, and okra, in that order. Bring to a light boil, reduce heat, and simmer for 30 minutes or (better) longer.
Serve on its own, over rice, and/or with Vegan Dad's Cajun Chickpea Cakes.