This is going to seem weird: baked potatoes slathered in Earth Balance (tm), topped with homemade chili, topped with homemade tempeh soysage. Behold, the Li'l Spudley!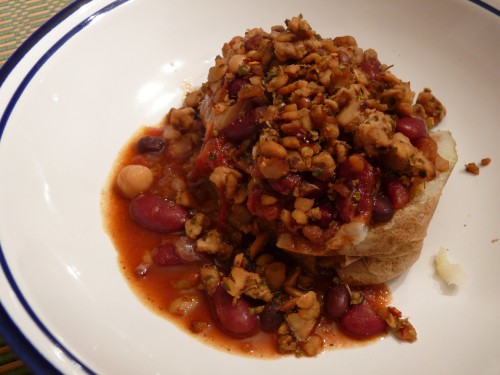 But furrealz, is it any weirder than chili cheese fries? I think not. Amy's had a taste for some kind of chili potato for the last few days, so I thought I'd surprise her by acquiescing (note 1: I was the initial hater). Sadly, I hadn't though in advance to soak cashews to make sour cream and we were out of silken tofu. But chili and potato somehow wouldn't be enough...so why not move in the entirely other direction?, thought I: tempeh soysage. Amy has highly skeptical of this twist (note 2: Now Amy's the hater). Luckily, our friend Maddog was here and was game for my experiment, putting the pressure on Amy to indulge my strange flight of culinary fancy. As it turns out, this was pretty awesome (note 3: It's awesome!). The buttery potato brings out the sweetness of the chili, while the soysage brings out the spice. It's just right.
All you need is:
We had this again a few nights later, with green onions. Unlike Amy, I'm a potato musher-downer. Deal with it.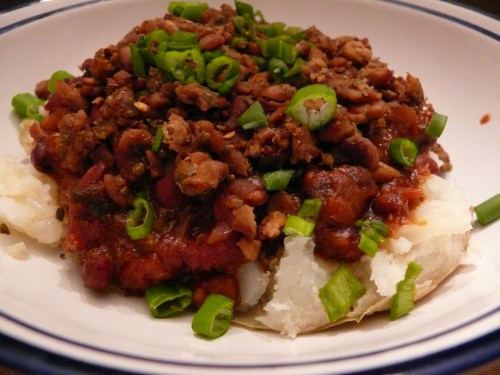 Fantastic!