The universe favors parsimony. Remember this. You exit through the turnstile as someone enters. The universe smiles. Ralph Nader weeps tears of joy. All is efficient, all is bright.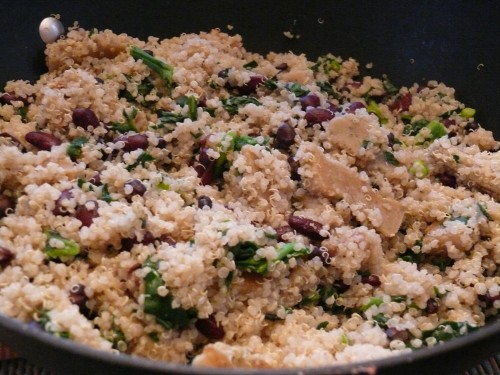 Which is a fancy way of saying, I love to work with leftovers (as you've probably noticed).
Tonight's challenge:
leftover beans (kidney and black) from that chili a while ago
quinoa from a party/potluck a few nights ago
seitan chik'n cutlets from that gumbo a week back
locally grown spinach (this is about the only local green we can get right now, so we're all over it)
I wish this were a bit more genius, but...well..., pretty much just mix everything together. Specifically, you'll want to cut the chik'n cutlets into short strips and saute in Earth Balance (tm) in a large skillet over medium heat until they're brown on one side. Flip them and toss in the spinach, dousing with a bit of olive oil. Meanwhile, drain and rinse your beans, then dump them in too. Finally, add the quinoa, stir well, and cover, cooking until everything is as hot as you want it.
These are the approximate amounts:
2 seitan chik'n cutlets, cut into short strips
1 - 2 cups chopped spinach, chopped coarsely
1 cup kidney and/or black beans, drained and rinsed
1.5 cups dry quinoa
3 cups veggie stock (cook the quinoa in veggie stock instead of water)
Ralph Nader will be over at 7pm.