<< Back Rainy Day Breakfast (Tofu Chili Scramble)
It's a rainy sunday and we needed a scramble with an extra dose of heartiness. So, hot on the tail of my recent culinary upcycling kick, I whipped up a tofu scramble using our leftover chili and some wild rice from our wild rice and mushroom soup.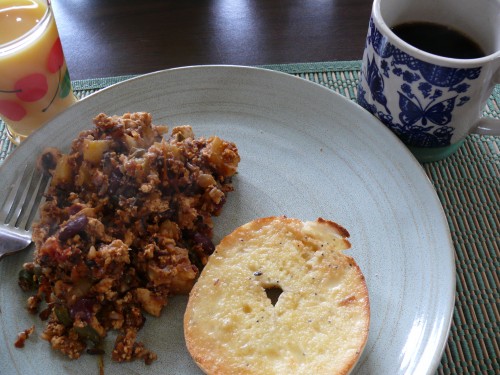 If for some reason, you happen to have the ingredients handy, here's how it works:
Tofu Chili Scramble
1 medium-sized white or yellow onion, diced
1 poblano pepper, seeded and diced
1 lb tofu, crumbled
2 medium-large potatoes, peeled and cubed
1 cup chili
1/2 cup cooked wild rice
1/4 cup nutritional yeast
cooking oil
salt, to taste
In a large pan or soup pot, saute the onion and poblano in a dash of oil over medium heat until they begin to soften. Toss in the potatoes and cover, cooking for about 5 minutes, browning the potatoes on one side. Crumble in the tofu. Stir in the remaining ingredients, cover, and cook until the potatoes are soft, stirring occasionally (about 15 minutes). Serve with a side of rainy.