We still had two seitan chik'n cutlets leftover from our gumbo, and this last time we made them in chik'n broth (which added just enough extra zang to make this my new favorite seitan recipe), so, after our beautiful weather turned cold, rainy, and gray, it was indubitable that we had to make a chik'n soup of some sort.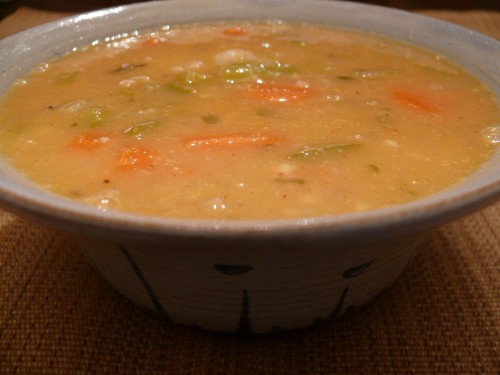 We wanted something a little heartier than our chickpea noodle soup, so we opted for something creamier and with potatoes. Additionally, we had some amazing fresh Hungarian paprika from Amy's recent trip to Budapest. So, we rocked this euro-style, added some tarragon, and went for an unusually savory (in the traditional sense of the word) soup.
Savory Chik'n Potato Soup
1 large yellow onion, diced
1 large or 2 medium-sized carrots, peeled and cut into disks or half-disks
3 stalks celery, chopped
4 medium-sized potatoes, peeled and cubed
4 large cloves of garlic, diced
1 large green bell pepper, half cut into bite-size pieces, half diced
2 seitan chik'n cutlets, cut into small cubes
4 cups of chik'n/veggie stock (we used the seitan stock)
4 cups water
1 tsp Hungarian paprika
1 tsp tarragon
1/2 tsp ground cumin
salt & pepper, to taste
1 tbsp Earth Balance (tm)
1/2  cup soy creamer (or use 1 cup soymilk, and reduce the water by 1/2 cup)
1/2 - 1 cup roux
In a large pot, saute all of the veggies in high heat oil over medium heat. Meanwhile, in a medium-sized skillet, lightly brown the chik'n in the Earth Balance (tm). When the veggies are soft, add in the stock and the water. When the chik'n is lightly browned on most sides, add that as well. Add in the spices, then the creamer.
Make a roux with about 1/2 cup flour and just enough cold water to get a batter-like consistency, mixing with a fork or small whisk. Slowly whisk the roux into the soup, until it's the desired consistency. Amy likes a thin creamy soup, I like mine thick. So it goes. Poo-tee-weet.
Enjoy!
(or else)