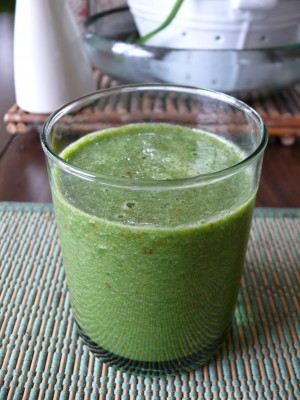 We found this power-packed smoothie recipe at Beauty That Moves.  We modified it a bit based on what we had on hand and what would fit in the blender.
Green Smoothie
1 apple, sliced (we used a big crispy Fugi)
1 banana, halved (since we didn't have any pear on hand)
frozen strawberries to taste (we used half a bag- about 5 oz.)
about 3 cups fresh spinach
2 tsp honey (or agave nectar)
2 cups filtered water
Plop everything in the blender except for the spinach.  Blend ingredients until smooth, feeding in spinach slowly through the lid opening of the blender.  This makes one FULL blender's-worth, enough for two people. Delicious and nutrient rich!