<< Back Keeping It Local (supporting local small business)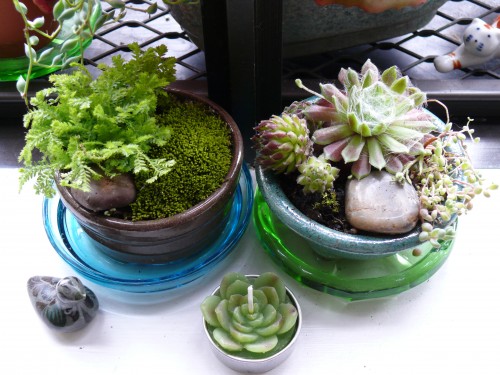 Every so often we deviate from the straightforward recipe posts to delve into "lifestyles"- themed posts here on IV.  Lucky you- here's another one!  Mark was out of town at a conference on Saturday, so our friends Ryan and Val consoled me by taking me all over Ypsi and Ann Arbor to see the sights.  Of course along the way, we got to stop into many local small businesses, where Val knows all of the owners.  We chatted them up and left each location with some pretty great stuff and there was no buyers' remorse because we supported local folks.  I ended up getting some items for the house that I knew Mark and I could enjoy together.
Our outing reminded me of shopping in Europe, where there are traditionally many specialty shops instead of big-box stores.  Because each store specializes in specific thematic items, they really know their stuff in terms of the origin and life of the products they sell.  Here's a record of our adventures.
Stop 1)  Beezy's in Ypsi for amazing vegan tofu rellenos.  We've written about the wonder that is Beezy's before, remember?
Stop 2)  TeaHaus in Ann Arbor for delicious tea.  They have an ENTIRE WALL of tea to choose from.
Stop 3) The Ann Arbor farmer's market.  I got some pussy willows for the house from a local apple orchard.  Behold: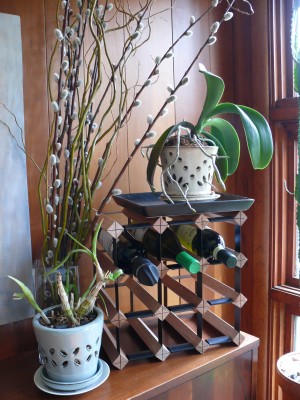 Stop 4) And that sharp wine rack?  That's from Everyday Wines, as are two of those bottles of wine.  The proprietor helped me select "natural" wines that haven't been through any sort of filtration process, and thus have not been exposed to any fining agents, which means they're vegan!  Hooray!
Stop 5) The Spice Merchants!  This place is fantastic!  I have wanted a salt cellar (aka salt pig) for a long time now.  This walnut salt cellar is nice and large, and is handcrafted by a family in Kenya contracted by the Spice Merchants to make hand-crafted wooden kitchen items.  Ryan and Val and I also picked out a bunch of specialty salts (which we got to taste test!).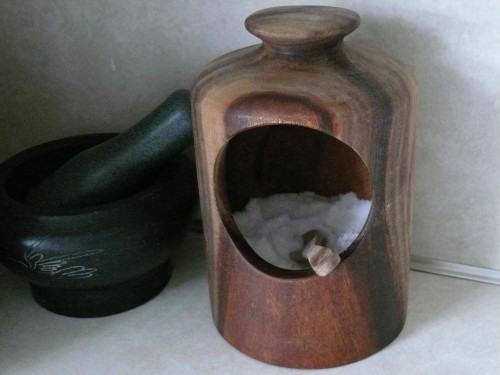 Stop 6) We happened to stumble upon the Treasure Mart's 50th anniversary bash, with music, food, and general merrymaking.  The Treasure Mart is three floors of...well...treasures!  In keeping with our love of used vintage and antique items, much of our home is outfitted with finds from thrift stores, estate and yard sales, craigslist, and a fair share of items from Treasure Mart.  On this day, my treasures happened to be some super comfy floor pillows.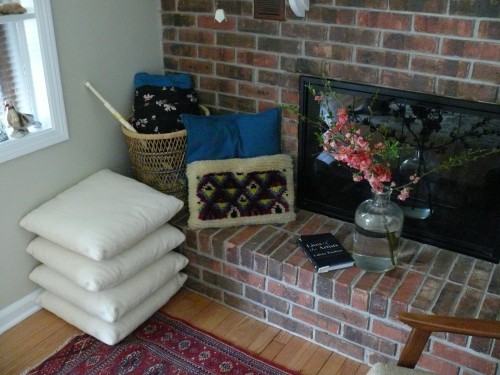 Stop 7) ...and those beautiful flowering quince branches?  Those came from my new favorite store Pot & Box.  Lisa has wonderful taste and welcomes people into her bright, airy space with Roos Roast local coffee a'brewin.  She happily put up with our special requests for these p.p. pots, where she put moss and succulents together into these perfect tiny planters.  Those little succulent candles are from her shop too.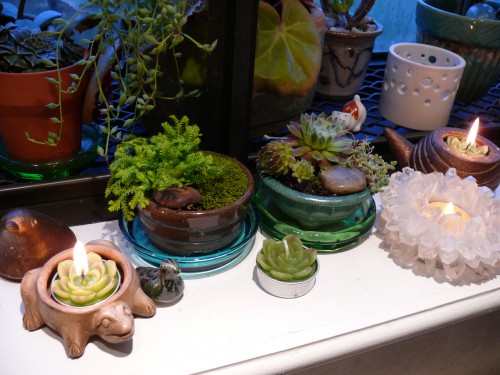 ...as are the ranunculus on our dining room table.  Flowers are produce too, after all, and it's great to buy them from a local establishment.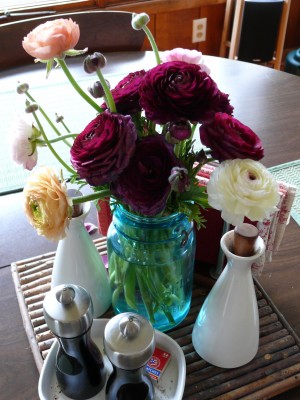 The entire day was such a treat, but the best part is that we talked Mark into coming home early from his conference to play with us into the evening, where we ate a great dinner, saw some art and hung out with good friends at their loft in Detroit.  A perfect long day of supporting our local friends with businesses while having a blast in the process!