<< Back Marty's Famous Oatmeal Cookies
Every time we visit Amy's folks--and every time they visit us--Amy's mom makes us these phenomenal oatmeal cookies. She veganized her original recipe by subbing Ener-g Egg Replacer (tm) for the egg--that simple!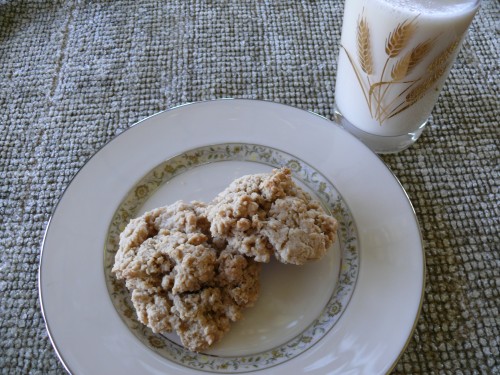 Originally, she made two batches for most visits (one for us, the other for them and Amy's brother), but for the last year or two, she's just made the one batch for everyone. No one seems to to notice or care that they don't have eggs, because they're amazing--chewy and sweet with a hint of saltiness.
And they have oatmeal in them, so they're good for you, right? They're practically healthy.
Marty's Famous Oatmeal Cookies
3/4 cup vegetable shortening
1 cup firmly packed brown sugar
1/2 cup granulated sugar
Ener-g Egg Replacer (tm) substitute for 1 egg
1/4 cup water
1 tsp vanilla
3 cups oats, uncooked
1 cup all-purpose flour
1 tsp salt
1/2 tsp baking soda
Preheat oven to 350 degrees. Beat together shortening, sugars, water, and vanilla, until creamy. Add egg replacer and mix well. Add remaining ingredients. Mix just until moistened. Drop by rounded teaspoonfuls onto cookie sheet. Bake for 11 minutes.