<< Back Perfect Chik'n Caesar Salad
It's...(drum roll)...Chik'n Caesar Salad!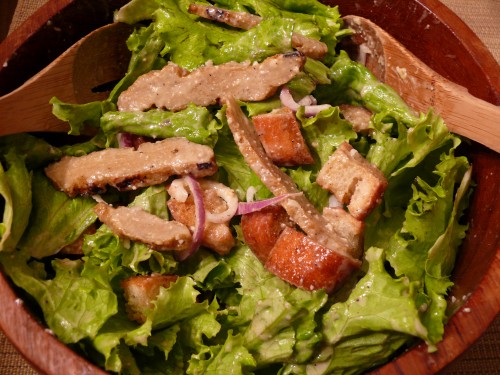 But why?
A friend was eating a chicken-y version at the bar the previous night
It's grilling season
Seitan chik'n cutlets are like crack, except they probably won't destroy your life
It's the salad that eats like a meal!
juice of one lemon
2 tsp dijon mustard
1/2 cup good quality olive oil
2 heaping tablespoons Veganaise (tm)
2-4 tsp vegan worcestershire
plenty of fresh ground pepper
pinch of sea salt
4 big cloves of garlic, finely minced or crushed in a garlic press
several sprinkles of homemade vegan parmesan (recipe below) to taste
Combine all ingredients in a bowl and whisk briskly until smooth.  Transfer to a cruet and chill.
1/2 cup raw pine nuts
1 tbsp white or yellow miso
1 tbsp nutritional yeast
1-2 tsp salt (to taste) (careful-we like our salt!)
Combine all ingredients in a food processor and pulse until ground to fine crumbly bits.  Try to stop before the mix gets pasty.
It's worth reposting this, since (a) we've strayed a bit from the traditional course, and (b) we've been making them every few weeks. The thing I love about these--the genius of them--is the cutlet form. Flattening them out makes them dense and very easy to work with in other recipes. In the not-too-distant-future (lalala), I'm gonna rock the PPK's version as cutlets.
2 1/4 cups vital wheat gluten
1/2 cup flour
1/4 cup nutritional yeast
1 tbsp onion powder
1 tbsp salt
1 tsp granulated garlic
freshly ground black pepper
1 1/2 cups cold water
2 tbsp olive oil
4 cloves of garlic, pressed or minced
fresh rosemary and thyme sprigs
fresh oregano and sage leaves
2 bay leaves
8 cups cold unchicken/veggie broth (we use the bulk unchicken broth from Frontier (tm))
In a large bowl, combine all of the dry ingredients, mixing well (I like to use a fork for this, since wheat gluten is so light). In a smaller bowl, combine the garlic and water. Mix the garlic-y water in with the dry ingredients. Knead into a uniform dough.
Fill a large pot with the cold broth and add the herbs and bay leaves.
Rip off a piece of dough in roughly golf-ball-sized chunks and ball it in your hands. Using wax paper or a ziploc bag, flatten the ball out as thin as you can. It'll stretch back once you peel if it off the paper/bag. Drop it into the broth. Repeat for the remainder of the dough. After you've dropped the final bit in, let them all sit in the cold broth for 10 minutes. Then, bring the water to a gentle boil, reduce heat, and cover, cooking for 1 hour. Remove from heat and let sit for 30 minutes. Note: These aren't super zesty on their own; that's part of what makes them awesome in so many different dishes. They're now ready to grill/bake/bread/fry/eat raw caveman-style.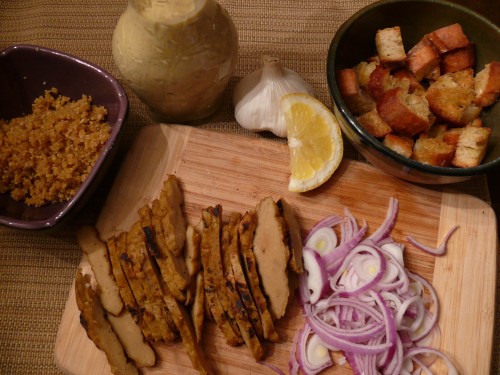 Green leaf or romaine lettuce, torn into bite-sizeable shreds
2 seitan chik'n cutlets, grilled and cut into strips
1/4 large purple onion, cut into thin slices then quartered
croutons (we make our own out of old bread--just cut into cubes, douse with olive oil and herbs/spices, and bake at 400 for 10 - 20 minutes, until crunchy)
Grill two cutlets until they're cooked through and, ideally, have grill marks. Grilling is about grill marks more than anything. Take heed.
Fill a large bowl with the lettuce, onions, and croutons. When the cutlets are done, cut them into strips and add them to the rest of the salad. Toss the whole thing lightly with the salad dressing.
Then eat, eat, eat...and keep eating, all you want. It's salad.