Does the coop have tons of locally grown spinach because we love it, or do we love spinach because the coop has it?
I don't know if it's because tomatoes aren't in season yet, or if the coop's surplus of spinach has inspired us, but we've been off the tomato lately and on the spinach and/or cream sauces. This is a variation on one of our standbys--VeganYumYum's Tomato Basil Cream Pasta. Instead of the usual tomatoes/tomato paste, we used our own frozen pesto and fresh spinach. While this, in and of itself, would have been awesome, it was kicked to the next level by the addition of sauteed mushrooms and homemade seitan chik'n--which also gave it that additional protein it was wanting.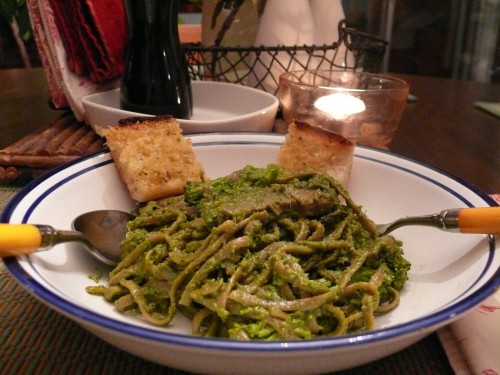 Spinach Basil Cream Pasta
1/2 lb tomato semolina linguine (or fettuccine/linguine of choice)
1/2 HEAD of garlic, diced
3 pesto cubes (or ~1/3 cup pesto)
1/2 cup ground cashews
3/4 - 1 cup of water
2 large handfuls of spinach
~8 medium-sized crimini mushrooms
1 seitan chik'n cutlet (optional)
1 or 2 stalks of broccoli florets (optional)
olive oil
salt & pepper, to taste
In a large pan or pot, saute the garlic in olive oil over medium heat until it just begins to brown. Meanwhile, either prepare your pesto or defrost your pesto cubes. Put some water on for the noodles. Once the garlic is done, toss that in the blender along with the pesto. Grind the cashews in a coffee grinder, if handy, and add to the blender mix--otherwise, just add the cashews directly. Add 3/4 cup water to the blender mix and start blending. Slowly feed in the spinach. Add salt and pepper to taste, and puree.
Meanwhile, once the water comes to a boil, toss in the noodles. If you're using the broccoli, steam it.
In the garlic pan, saute the mushrooms and chik'n (if using) in olive oil, until the mushrooms are tender and the chik'n has begun to brown. Remove from heat.
Once the noodles are done, add them to the mushrooms and chik'n, then mix in the spinach/pesto blend--slowly. Add just enough to thoroughly coat the noodles and fixins. You may need a little extra later if you let it sit for a bit.
Serve with garlic bread. Or else.