Since we've used up all of our canned sauce from last year--and for a change of pace--we've been making a lot of white sauces lately. This is a variation of our standard lasagna, taking a page from the al-faux-do book.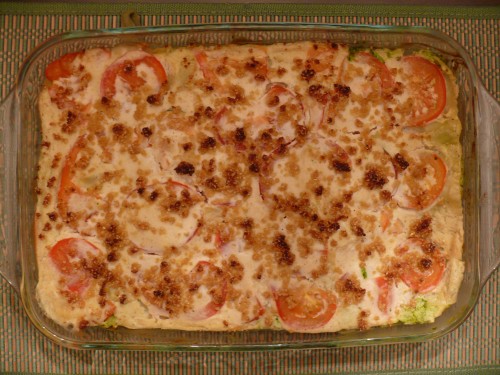 White Lasagna
The Essentials
12 large lasagna noodles
2 medium-sized tomatoes, sliced thinly
1 zucchini, sliced thinly
6 - 8 crimini mushrooms, sliced thinly (optional)
vegan parmesan (optional)
1 medium-sized yellow or white onion, chopped
6 cloves of garlic, diced
1/4 cup Earth Balance (tm)
~1/4 cup flour
1 tsp ground mustard seed
1 cup soy milk
salt & pepper, to taste
2 cups spinach OR lightly steamed kale
1 lb/package extra firm tofu
2 tbsp nu yeast
1.5 tsp oregano (2 large sprigs fresh)
1/2 tsp garlic powder OR 2 – 4 cloves fresh garlic, pressed
fresh basil, to taste
1/2 tsp rosemary (chopped if fresh, crushed if dry)
1/8 tsp cayenne
salt, to taste
White Sauce

Sautee the onion and garlic in olive oil in a large pan over medium heat until they are soft and just starting to brown, then remove from heat. In a small pot, melt the Earth Balance (tm) over medium heat. Once it's melted, whisk in the flour a little at a time, until you have a thick roux. Add the onions and garlic to the blender, then pour in the soymilk. Add in the roux and ground mustard seed and blend until smooth. Salt and pepper to taste.
Faux Ricotta

Blend the tofu and spinach/kale in a food processor, until well-mixed and somewhat smooth. Add in the remaining filling ingredients and blend until smooth, salting to taste. You can use this filling in any Italian-ish recipe that calls for ricotta.
Mushrooms (optional)
Sautee the mushrooms in olive oil--in the pan you used for the onions and garlic--over medium heat until the mushrooms are tender. That's it.
Since the white sauce is much creamier than standard tomato sauce, I'm afraid you're going to have to suck it up and boil some noodles. But just until they're al dente.
Meanwhile, preheat oven to 375. In a 9 x 12 pan, spread enough white sauce to thoroughly cover the bottom of the pan. Add in a layer of noodles. Then add a layer of zucchini, then one of tomatoes.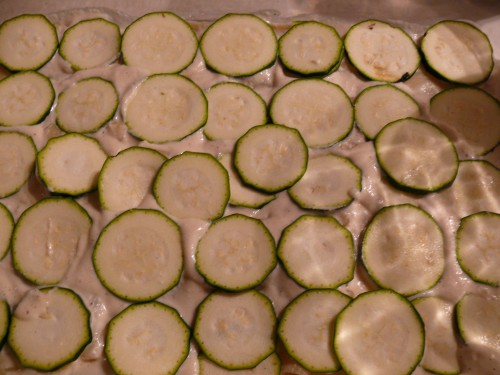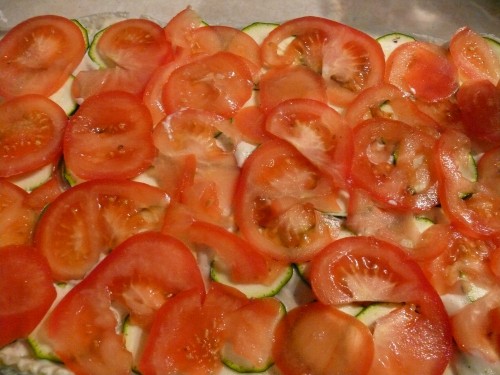 Add another layer of noodles. Spread a layer of half the faux ricotta on top of the noodles. If you're using them, spread a layer of mushrooms over the filling.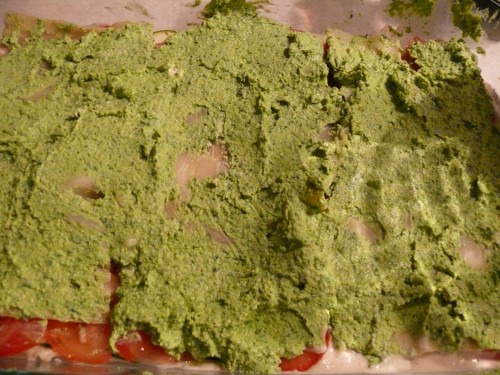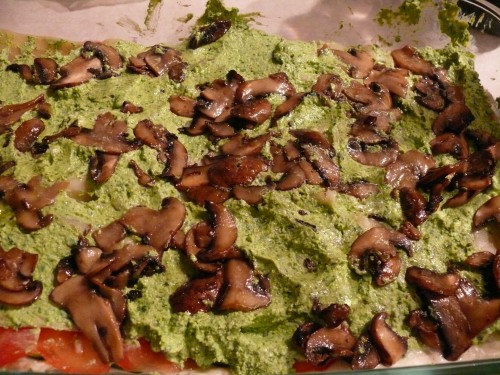 Cover with another layer of noodles. Now spread the rest of the faux ricotta on top of them. Now put one more layer of noodles down.
Add one final layer of tomatoes then cover thoroughly with the remaining sauce.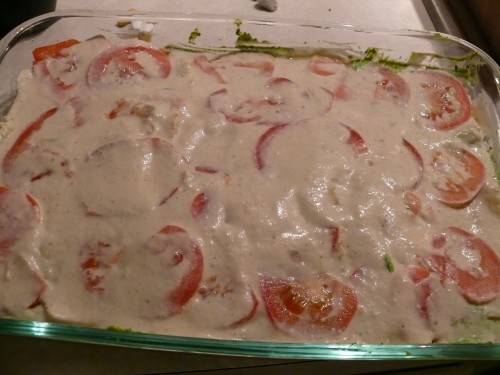 Cover the pan with foil and bake for 30 minutes. Remove the foil, top with vegan parmesan cheese (if using) and bake for another 30 minutes. Let it cool for about 15 minutes before cutting and/or serving. Use your will power. I know you can do it. Eat!